This is the second part of Didier Gazagnadou's interview for the EURASIA program. (See Part 1 here)
In this part, Didier explains how epistemological incompatibilities, including religious beliefs, have affected cultural diffusions throughout Eurasia.
This interview was conducted on two occasions (18th January & 5th July 2021) on Zoom. The author edited the two interviews to produce the following text.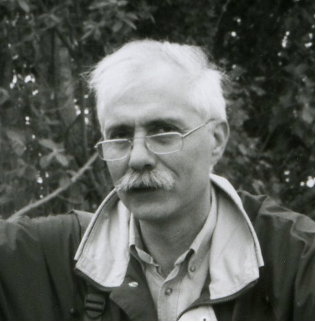 Didier Gazagnadou is a French anthropologist, born in 1952. He is a Full Professor of anthropology (Dr. HDR.) and teaches at the Department of Sociology and Anthropology at University Paris 8 – Vincennes, where he continues his research on technical and cultural diffusion in Eurasia, specially in Iran and the Arab World, with a partially diffusionist approach.
After completing studies in philosophy at the universities of Paris I Pantheon-Sorbonne and Paris VIII – Vincennes à Saint-Denis, Didier Gazagnadou went on to study anthropology. He is now a University Professor in anthropology at University Paris VIII and lead researcher in the laboratory Centre d'Histoire des Sociétés Médiévales et Modernes (MéMo) of Paris 8 and Paris Nanterre Universities. During the course of his career, he was based in Iran on two occasions. First of all in 1993 and then in 1997 (in Teheran), where he was a researcher at the Institut Français de Recherche en Iran (IFRI). He was subsequently posted in the Arabian Peninsula from September 2007 to August 2010, where he worked for the Ministry of Foreign Affairs as Cultural Advisor at the French Embassy in the United Arab Emirates. He is a member of the French Association of Ethnology and Anthropology (A.F.E.A. Association Française d'Ethnologie et d'Anthropologie) and of the "Société Asiatique".
---
Dominique
So it is about epistemological incompatibilities.
Didier
Yes. He shows that this idea of a creator God, like Needham also mentioned, above everything, who in a few days creates the world, humans, biodiversity… Is something that is totally foreign to Chinese thought or philosophy, which is very interesting I find.
And this would explain the situation today of monotheism in China. There are 1 billion and 400 million inhabitants, but there are only five million Christians I think, all Christians together Protestants and Catholics, and about 50-60 million Muslims. But in fact, in the case of the Muslims, this includes the Hui (Chinese Muslims), and the Uighurs, the Kazakhs, the Kirghises, which are actually Turks.
And in fact monotheism did not take, as they say, a graft on a tree, and I find this a very interesting subject from the point of view of the history of religions. It's how two philosophical traditions, intellectual traditions, traditions of a relationship to the world, come to be totally divergent. This is not my specialty either, but these are questions suited for a seminar for example.
Dominique
But what do you think is the case for the historical nomads of Central Asia? The nomads of the Siberian steppes and the Mongolian nomads for instance? In relation to this question of religion, are they either monotheistic or pantheistic?
Didier
Nomads are quite flexible in the end, they get by with the difference of religions, we know for the Mongols and the Turks. But there too arises a new and very interesting question which is not solved, on which I don't have a lot of work besides, maybe one day but I don't know Turkish, I'm too old now to learn Turkish. The Turko-Mongols, they are called shamanic. They believe in spirits, in the forces of nature. The Mongols called their god "Tengri", the eternal blue sky if I understood correctly what it meant, I think it's a beautiful idea.
Dominique
And this is an idea that is also linked in Taoism in China. Because they also believed in "tiān", the sky, right?
Didier
So there you have it, is there a relationship or not? Maybe there is. That's a real question. And it's a Taoist idea that has spread among the Mongols. Because Taoism is obviously very old. It's possible that it came from Taoist monks who diffused the idea among the Mongols, in ancient times, before the conquest of China perhaps.
Dominique
Perhaps Taoism itself has received some influences from the cultures of the nomads?
Didier
Maybe Taoism would have been influenced. But in any case, the Mongols had this shamanic practices that we know now, that are analyzed by the ethnology of trance, of belief in spirits and forces of nature. So I don't think it's spread so much in sedentary states and sedentary societies, where there is a superstitious world. But I don't see it in a prominent way in Iran, for example, or in China, I don't know.
On the other hand, the Mongols were very great, as much they were extremely hard, even cruel in the military practices and in the military conquests, as much on the religious level they were for a long time very flexible and tolerant. They had around them Buddhists, Muslims, and Christians. Besides there were only two big Mongolian tribes which were Christian. And they organized disputatio, as they used to say in the Middle Ages, in Latin in the Latin Middle Ages, that is to say controversies between these different religions.
They converted a little to Islam in Iran, or in the Iranian and Iraqi world towards the end of the 13th century, it didn't last very long because finally in the 14th century they had to, and during the 14th they lost power. So the diffusion of Mongolian or Turco-Mongolian shamanism in sedentary societies was a bit difficult because they were the conquerors.
Dominique
But they didn't impose their religion and their very culture of shamanism? That's interesting.
Didier
So the really interesting problem is also the difference in altitude with the Islam of the Turks and the Mongols. Because the Turks converted massively to Sunni Islam, for the most part, and quite quickly. They were first present in the military slave armies, in the Abbasid armies of the Abbasid period, then gradually from 1061, from the 11th century, the large tribes came from Central Asia, and gradually converted to Sunni Islam.
Dominique
Do you think this is merely because of geographical conditions?
Didier
This is a question that I cannot explain to myself. The Mongols did not react at all in the same way, they conquered, and they settled in power. They exchanged elites between Central Asia and China, between the Persians they sent to China and the Chinese who were with them. But for me, it's a theoretical question, once again. That is to say: What explains the conversion to Islam?
It was useful to convert to Islam for the Turks. But the usefulness would have been the same for the Mongols. But the Mongols remained outside, except at the end of the 13th century, and in Iran only, otherwise they went back completely. The Turks finally came out of Central Asia, even from the steppes of Upper Asia, and swept through the Middle East and the Near and Middle East, or Russia, and we can still see the traces of this today. And not counting of course the part of the tribes that gave the Ottoman Empire.
So that's even more impressive. Because this Ottoman Empire conquered a part of Eastern Europe, and a part of the Mediterranean basin, and a large part of the Middle East. So these are questions, and it's hard to answer them.
Dominique
I'm asking you this question because I'm very fascinated by this idea of shamanism among the nomadic culture, and the reason why is that there are traces of shamanic culture even in the Shinto cultures in Japan. Around the second century AD there was this very famous queen called Himiko, who was a shaman queen. Shamanistic practices can be found in today's Shinto practices. And I think that there is a lot of influence of this shamanic culture in the Japanese traditional cultures, such as Noh. Have you ever visited a Noh theater in Japan?
Didier
Yes. During my first stay in Japan in 1978 in Kyoto, I attended a Noh performance. It was at that time for me, I had less knowledge, it was more a trip really. So it impressed me at the same time, but I didn't understand much. And I saw Kabuki too.
Dominique
So that's two of the traditions that are really contrasting I would say.
Didier
Very different yes.
Dominique
Very different. When you saw a Kabuki play, weren't you amused even if you didn't understand it?
Didier
Oh right. Yes, visually, but we are always frustrated because we don't understand. That's the difficulty. No, but I know a lot about Japan now, you know, thanks to the NHK channel.
Dominique
I see. Anyway, I just wanted to tell you that the Noh theaters are incomprehensible even for contemporary Japanese. In fact I have studied Noh for five years. But it's very technical very difficult to acquire. And even with this knowledge that I acquired after five years, I still don't understand many things when I go to a theatre.
Didier
That is to say, the words?
Dominique
The lyrics, and even the movements are very mystical you see, they are evocative rather than expressive. And what is interesting is that in Noh, when you play on stage, you are forbidden to express too much the feelings of the characters you play. And they tell you that Noh is not Kabuki. And in fact it is a culture which is dedicated to the gods, in fact all the staging of Noh, it is a homage to the gods, and that's why the Noh actors often face the back of the theater, that is to say towards the wall.
Didier
Don't you have anthropologist colleagues in Japan who are working on this theme?
Dominique
I have some knowledge of contemporary Japanese anthropologists, but not someone working on this theme. But I know quite a few anthropologists who work in African or Mongolian cultures. I recently read an interesting book of a Japanese anthropologist who works on shamanic cultures in Mongolia.
Didier
Is that so?
Dominique
His name is Ippei Shimamura, he wrote his Ph.d. thesis on traditional shamans in contemporary Mongolia, and then started an ethnography of contemporary Mongolian rappers. In his recent book, he analyzes how the traditional rhyming techniques of the shamans are inherited in some of the modern rappers.
Didier
Ah, that's interesting.
Dominique
Coming back to our main theme, I wanted to ask you this question because it reminds me of this shamanic tradition in Japanese Shinto, and even in its syncretism with Buddhism. There is also an artist who lives in Kyrgyzstan, he had explained to me how many Muslims in Kyrgyzstan today practiced Islam with some shamanic grain, that is to say there was still an animistic influence in their practices of belief of Islam. They go to mosques of course, they make their prayers in mosques, and at the same time, they venerate the natural spirits which live in the forests or in the mountains. And that had a value equivalent to their beliefs and their practice of Islam.
Didier
You know, in Islam, people manage, from Morocco, Mauritania to China, India and South Asia, in France too, in European Islam, if I may say so. Finally, my experience in the field shows me that people tinker. There are theories, there are theologies, there are sects or more or less orthodox movements that are able to explain to you everything from A to Z on which they rely. But for many, for the populations, there is a "bricolage" in the Levi-Straussian sense of the term.
Dominique
Similarly in the syncretic movement in Japanese Shinto and Buddhism.
Didier
That's right. And basically, so much the better, but because that's what gives variations, it's inevitable, and that's why I, against many anthropologists, defend the idea that is now often fought, both of popular religion and learned religion on the one hand, and of the influence of the role of culture.
I am sometimes accused of being a culturalist, but yes, I am a bit of a culturalist. I believe in the impact of the great mental structures historically produced by this or that culture. And so the tinkering with religion, but that has been the case in all religions. As soon as they are instituted, and that's why I call them learned religions. Obviously there's a huge gap, also in the history of Christianity, between a St. Augustine who wrote treatises as a great theologian, and then obviously the men and women who practiced Christianity in the society. Until very late there has been a considerable gap.
First of all, it is necessary to have societies which know how to read, except in France we knew how to read in the 20th century, the majority of the population. At the end of the 19th century it started a little, but otherwise we couldn't read. So we had to go through intermediaries, and in religious matters we went through the priest or the abbot or the monk of the corner, to be explained and often, as in Islam moreover in ancient Judaism, Christianity in all these religions, we tinker with superstitions with what we believe to be our religion, themes, by fundamental practices of our religion. It's really snippets of a montage, advancements.
Dominique
Do you also call these cases of cultural diffusion?
Didier
When it's internal to a country, German ethnology has worked a lot on interregional diffusion. Yes, there are cases of diffusion of ideas even within a region. Gabriel Tarde (19th century) spoke about it for example, the Postal relay diffused ideas in France. I am interested in the diffusion that are of longer course if you want, and between very different cultures. But we can also observe cases of diffusion in a regional way, in the agricultural domain, absolutely yes, in the past periods. Diffusion, for anthropology, it is in particular between cultures that are different, and that have contacts.
Dominique
I'm particularly interested in this idea of thinking about how we can overcome this, I would say these kind of epistemological walls between the East and the West, as you talked about between the practiced medicine, the Greco-Roman medicine and the Chinese medicine. Or this monotheistic idea that has not been applied to the Chinese people, that has not remained among the Chinese people. Because I'm almost against this idea that, for example, that a Japanese could never understand a mind of a monotheistic Frenchman, or vice versa, you know?
Didier
Oh yes!
So you're asking me questions, for example, if these diffusions had any negative effects, right?
Dominique
Yes.
Didier
Especially in relation to colonialism, to Soviet colonization there. So these are different periods, obviously very different. We cannot judge in the same way. The Iranians will tell you that the arrival of the Mongols is a catastrophe for the Iranian world. Certainly, in a way, one can say that from a military point of view and from the point of view of human lives, it was a disaster.
But this is the time of the Middle Ages. When the Achaemenid Empire in its great period, centuries before the Christian era, invaded certain regions, they were not gentle either. The relationship to violence in ancient and medieval societies is totally different from what we feel or think today.
Besides, you tell me somewhere in another question, basically, in the Eurasian space or maybe even outside, but it is much easier for me to talk about the Eurasian space. Invasions, history is made since antiquity of invasions. And therefore we don't dream too much about it, it is a fact. Well, when you say invasion, you say military invasion, which means that there are deaths, cruelties, etc. Dominations, therefore there is a system of domination. But at the same time, certainly among these phenomena, these negative processes, there have also infiltrated positive diffusions.
Paper came from China. And then we see it spread in Eastern Iran, moreover in Central Asia Sogdiana, that is to say in the region of Samarkand, then we find it in Iran, then because of the Islamic expansion, we will find it until the Maghreb. And then there is a discussion about whether the paper spread? It spread for sure in Europe. So here it is linked to a battle, it is linked to the Islamic conquest of Iran, and then to the encounters with the Chinese world, the encounters between the Arab-Persian Muslim world and the Chinese world was done on the military level too.
Dominique
Could we even say that without these inventions and without these wars which mark so much our history, there would not have been any cultural diffusion?
Didier
Yes, I think there would have been less. The proof is that moreover the societies that are isolated, move little, hardly move at all. And we'll talk about the position of Lévi-Strauss which is fundamental.
Dominique
Like Japan between the 17th and 19th century yes, which was fenced in on themselves.
Didier
Exactly. It doesn't move like the Yanomami Indians, unfortunately for them they were isolated but then when we make contact, the gap was so important between the world of the Amazonian Indians and the Portuguese or Spanish colonization that they were massacred, dominated, subjugated, violated. Unfortunately, therefore, I want to answer: Yes, there is a relation between the conquests, unquestionably, and the diffusions, the borrowings, the refusals of borrowings also certainly, because there is a dialectic also with the invader, sometimes we want to distinguish ourselves against.
Moreover, even in society, in a homogeneous society, one wants to distinguish oneself against. I have an anecdote linked to Deleuze's seminar, which concerns Japan. There were some Japanese people there who followed his seminar for years.
Dominique
Oh, I didn't know.
Didier
Yes, absolutely. And by the way, the translator must be in Japan because Deleuze was translated into Japanese by one of these Japanese.
Dominique
Maybe it was Mr. Kuniichi Uno, who translated many of Deleuze's publications into Japanese.
Didier
It's probably him. I remember him very well, he for example they were two, three from time to time who came. He was there all the time. And then I don't know if it was with him that I spoke or with another, one day during the break of this seminar, it struck me that, we spoke about Japan, I had just come back from Japan, etc.
He said you are lucky in France. I said: Oh well, why? Because there are a lot of different people in France, but in Japan we are all the same, we are all among Japanese. This is interesting from an anthropological point of view. And I don't know if it's true, I noticed when I was watching NHK or when I was in Japan, young people, like young Koreans for that matter, have ways of dressing, of dyeing their hair, of standing out completely, it seems like a will to stand out from the Japanese society.
Dominique
It is well known that Japanese people believe in the myth of homogeneity, and indeed this theme has been discussed by many sociologists.
Didier
I don't know if it's true, but in any case, I was obviously like all the tourists to go for a walk, I went for a walk in Shinjuku, where there are young people who get together to do shows to dance, and it's striking this will to distinguish oneself. So the story of distinguishing oneself is also very important, culturally and internally, in a way, in a relationship with a foreign society to a foreign culture, but also eventually even within a society that is too homogeneous. Otherwise between social strata also, at the same time one wants to imitate, and at the same time to distinguish oneself.
These are the movements that we observe in cultures, in hierarchical cases. So to answer your question: Yes. Can we distinguish, can we draw a line between techno-military and scientific-artistic diffusions? I am an anthropologist, and the question that matters to me is simply, whatever the technique, I am now working on a new book on a new case of diffusion, of a completely different technique.
But I'm still tangled up in very complex linguistic evidence. And so what interests me at a starting point eventually, the conditions of the creation of an invention, and then its progress, and the reasons for its progress, see the differences that this marks as it progresses. As I did for the case of the Postal relay.
What is not yet sure, it is far from being sure and perhaps will never be demonstrated, is whether the Mongolian system or the Mamluk postal system did diffuse to medieval Europe. But in any case, we can note, this is the whole interest of the neo-diffusionist approach because, the classic British diffusionism is still a little limited. But let's say that's why I speak of neo-diffusionism or partially diffusionist as far as I'm concerned, it's that we can see very clearly by following a diffusion. What is fascinating is that we can really describe the difference of reaction, of integration to the society or societies, that this technique, this cultural or artistic material, the way it integrates the society.
Dominique
I see. It almost sounds like an analysis of a chemical reaction.
Didier
What is fascinating in the history of postal systems is that we see the very great difference between the East, and by the way I don't like the term "East," between the societies of Asia and the Middle East and European social formations. Because there, as I tried to develop at the end of my book, we see a totally different relationship to individuation and subjectivation.
And this, as much for the European world as for the Arab world, for the Iranian world as for the Chinese world. There we follow it very clearly, by following the path, we have texts in addition, so it is formidable. In the Antiquity it is more complicated because we do not have texts. This said, archaeologists manage to follow the cases of technical diffusion also, for instance ceramics which is a very interesting material culture. But when we have texts it is even better, obviously.
So I think that, when we analyze a supposed case of diffusion, we always start from the hypothesis of a supposition, because we must never deny that there are, and this is why there are different cultures, that there are inventions that are completely local and that are not the work of diffusion. But when we have a doubt, and we start working on a phenomenon of diffusion, whether it is military, aesthetic, aesthetic-artistic, medical, or clothing, etc., the method remains the same.
Dominique
It is a technique that's applicable to any cultural product.
Didier
To establish, to verify. When it remains verified by the texts, if one can verify by the art, for example, the painting, the ceramics when there is some. All the elements are gathered to try to argue, to understand if there is a question of diffusion or not, and of modifications obviously.
Now, let's look at another very important story, the story of numbers, the story of positional numeration.
Dominique
Right. Have the mathematical inventions, or revolutions, also been catalyzed by cultural diffusion?
Didier
It is more than a revolution, it is like the quantum revolution today. Imagine the calculations… So the Greeks and the Romans, and other civilizations, China, India have done extraordinary things. But this invention of the positional numeration 1, 2, 3, 4, 5, 6, 7, 8, 9, 0. All the mathematical history and the scientific history in which we are, could only be made with this invention, which gradually spread from the Indian world to the rest of the world.
For me it is always an object of extraordinary admiration, I think we do not realize how important that was. It went from the Indian world to the Persian world, then from the Persian-Arabic world to the Mediterranean world.
Dominique
Which leads to the universal foundation of mathematics today.
Didier
Universal. Because there is a danger to diffusionism, we must always take into account, it is the danger I would say nationalist and identity-based. To take only one end of the chain or other, that is to say the one who invented it would be the genius, the others are only copiers. And the one who does something at the very end is a clever person who has done something else. And this is very dangerous, it was not at all my thesis. I believe that there are inventions, well, Indian numbers are Indian numbers, that everybody thinks are Arabic numbers, but they are Indian numbers.
Well, it's great, it's an invention. It's an invention there, in that place, by those people in their cultural history. But it's true that it's absolutely brilliant in the third or fourth century, or around the fifth before Christ. And then, well, Einstein invented something brilliant elsewhere, that's it. It has both a cultural dimension, but it doesn't only have an identity dimension for me, I think it's fundamental.
---
(Continue to Part 3)