In this second article of our interview series for the Eurasia program, we talked to Altynai Osmoeva, from Bishkek, Kyrgyzstan. Altynai is an artist, artisan, and social entrepreneur, who works with materials from the nomadic tradition that she grew up with.
For this opportunity, she kindly explained to us about the relation between her cultural background and her current project as an artist, designer and social entrepreneur. In addition, she shared with us her thoughts on Beuys' reference on nomadic cultures and his influence on her artistic activities. Various important questions emerged from this discussion, such as how to reunite traditional and contemporary cultures, and how to rebuild unity among contemporary nomadic cultures of Eurasia.
This interview was conducted on 31st May 2021 on Zoom.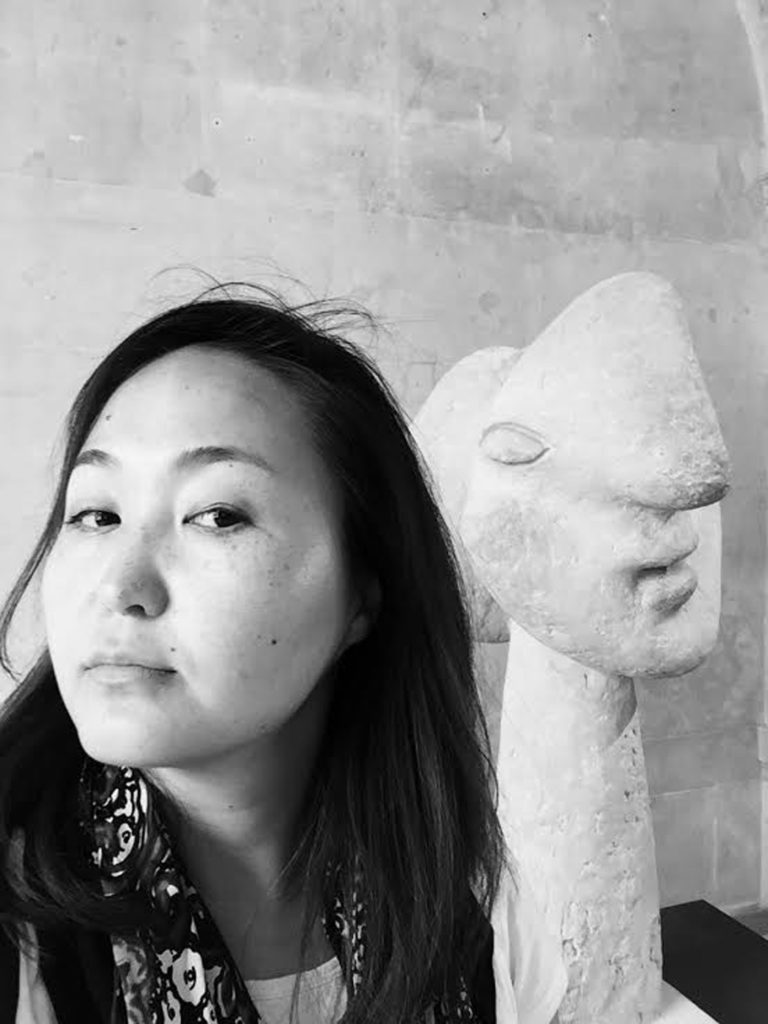 Altynai Osmoeva, b. 1988, Bishkek
Coming from a family of generational artisans, Altynai creates mixed media installations and metal-on-felt paintings that reflect the centrality of folk art in Kyrgyz nomadic livelihoods. She has spent her career travelling across Eurasia from Western Europe to Asia Pacific, including the Middle East, Central and South Asia. Altynai researches and practices textile art traditions while co-creating together with artisans around the world. Altynai holds a degree in Fashion Design and Print from Central Saint Martins College of Art and Design, University of Arts London.
---
Dominique:
Hello. Very nice to meet you. I am Dominique. So today, I have so many questions to ask you within an hour or so, but I will try to not run out of time. I've been watching YouTube videos of your quite recent exhibition. And you sent me your fantastic book about the Kyrgyz felt work and rugs. You went to study fashion in UK and you also work as a fashion designer, but at the same time you have your own art exhibition. As far as I understood, it was not only about fashion, but also about craftsmanship and traditional arts and crafts in your country and other cultural aspects.
So I have tons of questions to ask about your activities and your thoughts on Joseph Beuys, but I want to first ask you to tell us about your background.
Altynai:
Yes, let me introduce myself. My name is Altynai, which means golden moon in Kyrgyz language. I was born in Bishkek, Kyrgyzstan and I was raised by my grandmother in a small village Tamchy by the shore of a big mountain lake Issik Kul; in my culture it is normal for the kids to be sent away to be raised by the grandparents. Both of my parents are also artists, so I was brought up in a very liberal and creative household and had a bit of an unconventional upbringing. From a very young age, I travelled all over the world and was exposed to various cultures; I studied in the US when I was 13 years old, which was quite an interesting experience for a village girl from Central Asia.
After graduating from school, I had applied to several art universities and got accepted to FIT in NYC, Polimoda in Florence, and CSM in London, where I ended up studying fashion design and print. I had a great experience in the UK because it is such an open-minded school with amazing tutors and full of talented students from all over the world. And that was the first time where I've heard about Beuys and I actually wrote my final dissertation on felt and the use of felt in art. So Beuys was, of course, part of my dissertation. And it's quite amazing that this project came about because I was very interested in him and how he used felt in his art.
So yes, I studied fashion design at Central Saint Martins, interned at various fashion houses, but I realized that the fashion industry isn't quite for me. It's very hectic. I realized that I personally need and want more time to think about what and how I want to do in regards to my art. I was really surprised when I looked at my work for the past five years at university and realized I had always used felt one way or the other. My professors always encouraged me to use new materials, explore ideas and be bold with experimentations, but I kept returning to the use of felt. I remember once discussing this issue with my mother, who is an expert on traditional arts and crafts and intangible cultural heritage. I said, "Mom, I don't understand why I keep using felt." In all honesty, I was a bit frustrated by it because I felt that I kept working with a traditional material that I was too familiar with. My mother told me, "Maybe it's just your background and culture and you unconsciously are comfortable using this material." After giving it a thought, I accepted it and even made my final graduation collection of 12 felted coats with no seams. I realized that I unconsciously kept using this material because it gave me a sense of comfort and brought memories of my childhood next to my grandmother, who used to make felt carpets and tell me stories from her life.
Dominique:
So you grew up watching your grandparents making felt works in your childhood?
Altynai:
Yes. Felt is an extremely common material in all of Central Asia and especially in Kyrgyzstan because it is a mountainous landscape with cold weather. Since Kyrgyz are nomads with a strong culture of herding animals like sheep, yaks, and horses, wool is in abundance. Felt is vital for Kyrgyz. Everything is made of felt; the Kyrgyz portable house – yurt is made from wood and thick felt sheet covers, and items like carpets, clothing, shoes and horse blankets are all made of felt. I remember when I was a kid if my stomach would hurt, my grandmother would wrap me in a piece of warm felt sheet, so I totally understood how Beuys used it in his story about his survival by being wrapped in felt by the Crimean Tatars.
Dominique:
Yes, and with fat.
Altynai:
Absolutely. Sheep fat would be boiled and stored away for such medical purposes. Anyone who grew up with grandparents can recall the smell of fat and felt, sense of comfort and warmth. It is the nomad's traditional medicine that we still use today.
So, I wanted to tell you more about the yurt. During my first year at CSM we were asked to do a project and I thought, "What can I do to introduce my peers to my culture?" I chose the yurt – "boz ui" which is a traditional nomadic dwelling, a quite genius in its design because it is stretchy, portable, made of natural materials including felt, and has not a single metal nail in it. I am sure you're aware of yurts, but for nomadic people it's not only a house, it's a whole philosophy and mini version of a universe full of symbolism and meanings.
In Kyrgyz culture, we have a strong oral tradition. Most of the knowledge was passed orally through songs, tales and sayings. So my grandmother had raised me likewise by passing me knowledge just like her ancestors had taught her. No wonder that kyrgyz people have one of the longest epics (approx. 500,000 lines) in the world – Manas. Maybe you have heard about it?
Dominique:
No, I'm afraid not. What kind of story is it?
Altynai:
Manas is about a Kyrgyz hero and how he united Kyrgyz tribes to fight off their enemies, but most importantly Manas is about our culture and traditions. People who recite it are called "manaschy" and it is considered a special gift that comes in a dream to only a chosen few. Manas is the DNA of Kyrgyz. I highly recommend you to look it up because I think you'll find it interesting.
Dominique:
Thank you, I will do definitely. So you were saying that the felt has a strong meaning as an element of your cultural background. But have you ever thought of escaping the gravity of your own cultural background? Because you told me you asked your mother why you would constantly keep on using felt without being aware of it.
Altynai:
I remember when I was in school, there were so many interesting creative people from all over the world. Also, I would start to analyze how all these famous artists and designers presented themselves to the public and what made them and their work stand out. I'd realised that what made these creatives special is their background and culture from which they drew inspiration and their ability to translate and explore that in their work. Before I learned that, I had this idea of creating a persona for myself just like Beuys had created his own myth and this whole kind of fantasy around himself. But it takes so much effort to do that. I thought, okay, do I spend that energy on finding my voice rather than pretending and putting these filters around myself? I struggled using felt in most of my projects like I mentioned before, but after I realised that my culture and experiences are ingrained in me and that it makes me unique, I started feeling at ease with an idea of exploring this ancient material in my practice. I also realized that if I don't embrace my culture, if I do not accept myself, I can't be authentic with anything I do really. So I decided that I do not have to fight it, but to explore it. And that has been my main focus since.
Now I think that the material isn't that important compared to a thought and feeling that an artist wants to convey to an audience. There are so many ideas, and so many ways to realize them. So felt has been in almost every work of mine, and I feel that I can keep reinterpreting it in many new ways; due to its plasticine-like qualities, felt allows me to be playful with it. I recently started a new series where I draw on felt with melted lead. This technique comes from my memories of childhood, when as kids we used to melt lead and pour it into a particular small sheep bones to make them heavy to play the national game of "chuko". So I decided to play with this idea of melting lead and pouring onto felt. After the metal seeps into felt, it cools and is taken out, it leaves this beautiful burnt mark. I find it beautiful how the soft natural felt is juxtaposed with heavy and hard metal. I'm curious where this play with materials can lead me to.
Dominique: What's the name of that game that you told me about?
Altynai:
"Chuko". It is a game of precision played with a particular tiny bone of sheep, where one tries to knock them out from a line. Also, there are many other games played with the same bones. Boys still play it on the dusty streets of villages.
Dominique:
Chuko. Am I pronouncing it right? Chucko. That's a pretty name. So that's how you try to rediscover your cultural origin through various materials. Now I'm wondering, what's the proper title you would attribute to yourself today? Because you taught me that the fashion design industry was not the right place for you, but you still work with fashion, right? You are also developing some idea for social entrepreneurship, in which you are making use of those materials. How would you call yourself today?
Altynai:
That's a very interesting question. I am Altynai, who is searching for herself, searching for beauty and a way for expression of my feelings and thoughts through creativity. I would simply describe myself as a visual artist. I feel excited when I paint, work with textiles, sculpture, video and photography. I'm interested in transformation and reinterpretation of my culture through a prism of contemporary art. Perhaps fashion design has moved into the background for now, but it still fascinates me. As of now I see clothing more as a piece to use for an idea for my art. I am particularly interested in traditional pieces of clothing because in my opinion, a traditional cut is an incredible time-tested design. I wonder if people are still capable of diverting from this destructive path of consumerism of fashion to a more conscious and healthy relationship with clothes. I cherish the idea of valuing clothes like in the past where a coat would be passed from a father to a son.
I'm also interested in social entrepreneurship because it's probably, again, something to do with my upbringing. After the Soviet regime collapsed, we had little traditional culture left unfortunately because we were colonized and much of our traditions and cultural identity was wiped out intentionally. But thanks to my mother and grandmother, who are these incredible women and pioneers of traditional arts and crafts in Central Asia, I had a chance to stay connected to my roots. Social entrepreneurship is something that I see as an opportunity to give back to my community; by teaching women traditional handicrafts from rural areas and showing them that these skills can bring them livelihood and independence not only makes me feel humble, but also helps me to stay connected to my people. Art is important and powerful, just like a language is. When one knows their own language and traditional arts, one is connected to their ancestors and wisdom.
Dominique:
That's very interesting. Whatever means or whatever medium is right for you, you explore that and you would also do social entrepreneurship, but also fashion design and contemporary art.
I was very intrigued by your recent exhibition where you had quite a few architectural prototypes, representing or looking like yurts. In one of them, you put some lights and fibers. Could you explain what you have tried to do or try to convey through that exhibition?
Altynai:
With globalisation, loss of cultural identity and traditional values, I tried to convey the importance of remembering our ancestors, culture and language. I wanted to reinterpret the traditional yurt – an object and symbol of nomadic culture through a prism of contemporary art. As Chingiz Aitmatov (most known kyrgyz writer) once wrote, "We exist because we expect the Future, remembering the Past".
The exhibition is called "The Blessing Yurt", which opened in December 2020 at the National Museum of Arts in Bishkek two months after the third revolution in Kyrgyzstan. It was an interesting timing because "The Blessing Yurt" became more than an exhibition on a kyrgyz yurt, traditions and culture, but a call to unity for my people in times of division and identity crisis for the nation. Specifically, an installation you'd mentioned with a stream of light, draped in silk and layers of paper, pouring through the "tunduk", which is also the central design of our national flag and is the top structure of the yurt, represented a visual interpretation of "the blessed home". In Kyrgyz culture the meaning of a blessing is very important, we have special ceremonies when people receive and give blessings and have many proverbs; one that I used for the light installation is – "The people prosper from the blessing, the earth blooms from the rain".
This project actually started in my first year at CSM where I designed a line of wearable art pieces from white and red felt, the main colors used in both the interior and exterior of the yurt. The garments are made from sheets of felt, all cut and assembled similarly to the yurt's structure. I played with the idea of the garments being made of few components that can be transformable, interactive and portable. The structure is quite fascinating because there's not a single nail used and everything is made of wood, leather, felt, and reeds woven into thin sheet-walls called "chii". The grid wooden walls allow the structure of the yurt to expand and collapse, making it compact and easily portable which suits the lifestyle of nomads.
Dominique:
Yes, it's like an accordion, it can be folded and expanded easily, right?
Altynai:
Yes. So, I thought I really would like to do that with felt; I took a massive plaster of felt, and dyed it in a red dye. In the past before paint was available, craftsmen would paint the wood using a mixture of red mud and animal blood, which would help to repel insects from the wood. So, I just cut the felt into stripes and connected it with metal clips creating a similar grid pattern. Each individual stripe can be clipped to each other in many different ways, it can stretch and expand and transform into completely different shapes depending on where and how different parts connect to one another. When taken all apart, it becomes 2D sheets of striped and cut felt and when clipped together, it forms 3D garments. The idea of the garment is to be as simple as possible, playfully transformable, packable into itself and be carried away after use, just like a nomad would do!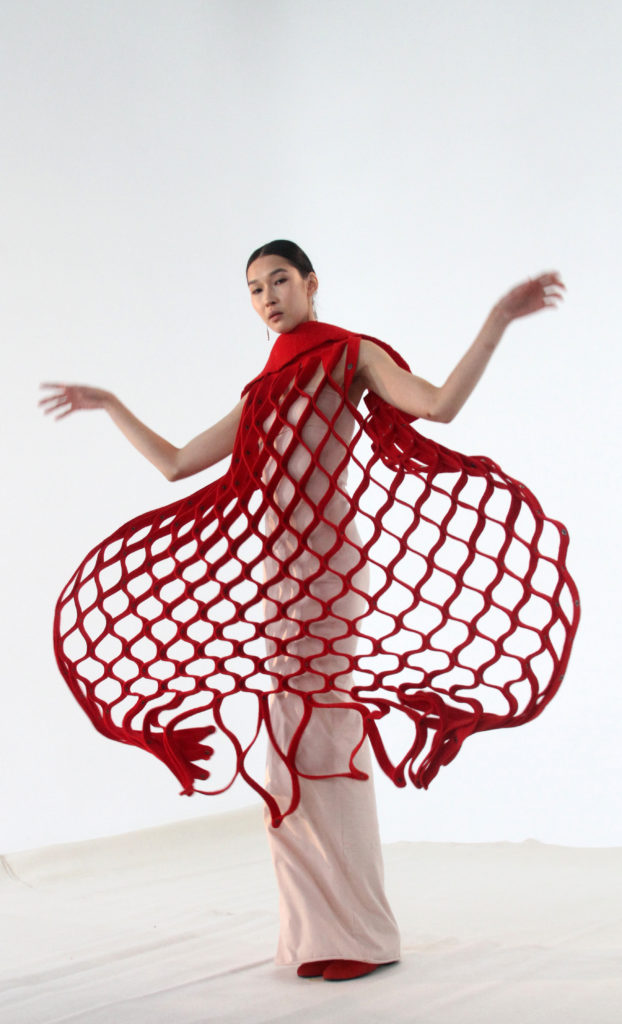 It was an interesting way to experiment and make a yurt into a garment. There are these last two costumes in white that resemble the white felt cap of a yurt; the fun part is that it transforms into a sack for the other garments to be packed in, zipped up and carried on as a backpack. The idea of asceticism, carrying only necessities for survival and nomadic minimalism were the initial ideas for creation of these wearable yurt costumes.
Dominique:
That's amazing. So, is this a product that you're trying to actually make and sell, or is this a conceptual prototype?
Altynai:
It's artwork. I didn't think of commercializing it.
Dominique:
I see. I definitely want to wear it though! I am also quite fascinated by yurts because I went to my honeymoon trip with my wife to Mongolia. And I spent a week in a nomadic people's place, just riding horses for a week, and we stayed in a yurt and I was really surprised how warm it kept us. We went in late September, and it was quite cold and freezing outside, but inside the yurt everything was warm. We've comfortably had dinners and parties inside, we had parties inside. And I also understand that feeling of connectedness to the outer nature world, being in a yurt. Have you ever lived in a yurt for a long time or is it something special for you as a contemporary person living in Kyrgyzstan?
Altynai:
I'm glad that you and your wife had an opportunity to experience a yurt lifestyle in Mongolia.
Personally for me, yurts were always in my life since childhood. Every summer at my granny's house by the lake, we used to put a very big yurt in the garden and would call all the neighbors to help out. Even the process of building up a yurt with neighbours or relatives has a big philosophical meaning for the kyrgyz, it teaches that community and common effort are important. Afterwards, we would all celebrate, eat and drink hot samovar tea together.
In my opinion, many contemporary kyrgyz in the bigger cities are not familiar with the yurt that much. I was surprised the other week when I took my friends to a yurt camp by the lake and for one of them it was the first time sleeping in a yurt. Currently, a yurt is most commonly used in the city during funeral ceremonies, as roadside shops or cafes. But also, yurts are used for tourism all over the country and still being used by the shepherds in "jailoos' – summer pastures, where the yurt actually is a home. I remember a few years ago when I was living in jailoo for a month with a shepherd's family, it was a particularly hot day which I spent inside a yurt. A 12 year old shepherd's daughter was sitting next to me; she lifted the felt cover at the bottom and tucked it into the wooden frame from the inside on opposite sides of the yurt and opened the door, and instantly, the yurt was ventilated and became so cool as if air conditioned… I was so amazed!
The sense of comfort and warmth when you enter a yurt is a wonderful feeling. If it is hot outside, it is mostly cool and shady inside and in the winter once it is cold, the warmth and coziness of a yurt is priceless, especially with the smell of fresh bread and hot tea. The yurt is so genius, I don't know how our ancestors came up with that!
Dominique:
That is amazing.
Altynai:
Yes, I admire nomadic design because nomads couldn't afford to have anything extra, so time had chiseled the design to its core; everything unnecessary disappeared. Even the food, the nomadic food is incredible! In Kyrgyz we call it "white", meaning such foods like milk, yogurt, cream cheese and all other dairy products that are consumed by the nomads. There's this really hard and soggy snack called "kurut", and it is the best for long journeys because it doesn't allow you to get thirsty or hungry quickly since provisioning water and food was a problem.
I remember this one incredible moment when I was traveling in jailoo on horseback with a shepherd; we were herding about 900 sheep, 200 cows and 40 horses up to the summer pastures high in the mountains, and I took all these high tech gear like the North Face tent and a sleeping bag. The first day we were horseback riding for over 12 hours nonstop. On the first night, I was so tired and had to set up a tent for myself for the night which took me over 40 minutes. In comparison to me, the shepherd I was traveling with just came up to the camping ground, jumped off his horse, took down the saddle and layed down all the layers of felt, fur and textiles cushions that come from underneath the saddle onto the ground. It was just the right size for him to lay down on. When he laid down on his bed made from these layers and a saddle as a perfect head rest, he covered himself with his coat, made of felt and lined with sheepskin, which covered his body just enough to be cosy, warm and protected from the rain since his coat became waterproof because of the dirt and grease. I asked, "Won't you be cold and what if it rains?" I will never forget his reply, he said, "Oh, nothing will happen, I shall sleep warm on felt and under the stars. I don't need anything else."
I was just so amazed, still as a Kyrgyz person, at how people used to live in harmony with Nature.
You know, nomads are the most dedicated environmentalists there are, they value nature because they understand that their life depends on it. In the past when kyrgyz settlements moved their yurts, the only trace left behind was a circle mark of yellow trampled grass from underneath the yurts. It is quite incredible to discover your own culture.
Dominique:
Do many Kyrgyz people still own yurts? Or is it some kind of a luxury item in Kyrgyz for people to own?
Altynai:
Although a yurt is not that expensive, it is not owned by every family. It is probably not a question of its monetary value, but rather its necessity in contemporary times. Also, yurts are used more in the north part of Kyrgyzstan compared to the south region where they aren't used as much. It's not something that a Kyrgyz family aspires to own, like people aspire to own a car, no. But, every kyrgyz who lives in the city has some relative in the village who owns a yurt, which is used more in rural areas.
Dominique:
I see. So how's that symbolism related to your works of yurts in your exhibition? You had a yurt structure with lights.
Altynai:
Through the prism of contemporary art and design, I tried to express my vision of a yurt – the sacred temple for a nomad, containing a multifaceted geometry of codes, concepts and meanings; the elusive sacred state of happiness and well-being, hidden in the yurt; the silent witness and guardianship of the centuries-old nomadic civilization.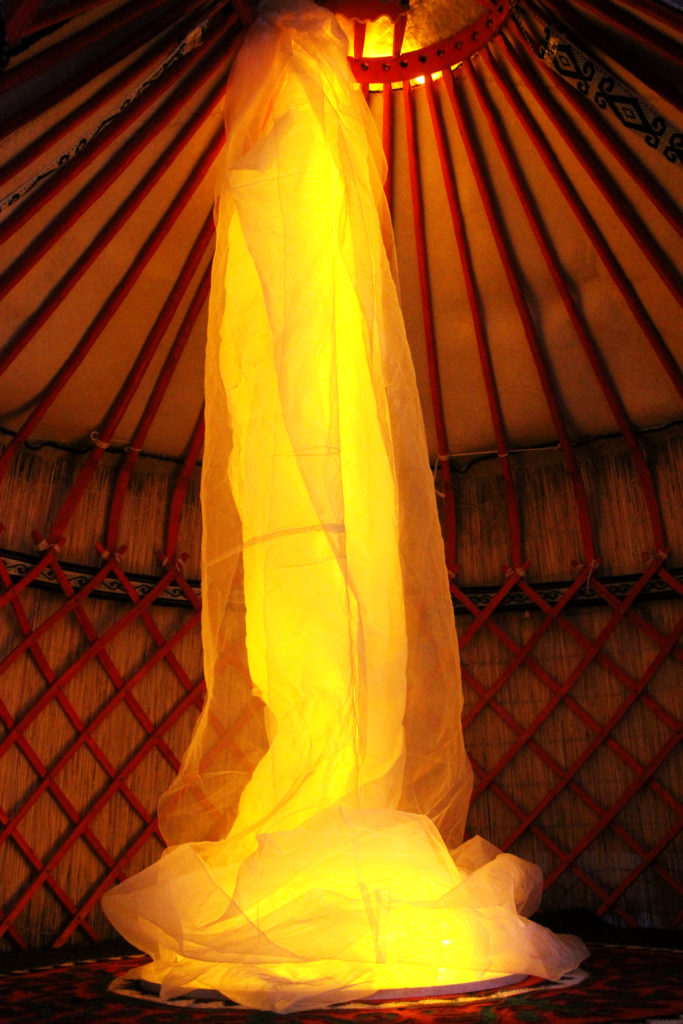 My installation of a yurt with a light sculpture inside is called "The Blessing". Many times I've heard various legends and sayings from the elders about a blessing -"kut", seen as an extremely shining light or silver liquid pouring through "tunduk" – the round crown that holds together the whole structure of the yurt, thus, blessing the home of the family that occupies it for generations. There is a belief that one can actually physically catch a blessing, and once caught it must be wrapped in white cloth and be hidden away. In kyrgyz language there are sayings; "the people prosper from the blessing, the earth blooms from the rain" and "happy are the people who have the blessing." So the light represented "kut" – the blessing that brings prosperity, wealth and happiness. Also, there is another meaning to the light in the center of the yurt, which can be associated with the central fireplace, which plays an important role as a source of warmth and light.
In our culture, we have strong traditions especially in hospitality, which is a special token of pride for us as kyrgyz, and there is a saying – "let us all come together and be united under one 'tunduk'," which calls for unity of all tribes and people as a whole. "Tunduk" can also be seen on our national flag, which represents our homeland. Since the exhibition opened in December of 2020, just two months after already the third revolution in Kyrgyzstan, it was a time when people were tired of political turmoil, economic failure, and on top of all this the pandemic; it was a perfect timing for "The Blessing Yurt" to open for people to stop and reflect on spirituality, their personal cultural identity, kyrgyz traditions and our heritage. This installation was my call to come together, be united and prosper finally, I mean how many times can we be robbed? So, that's why I made "The Blessing" installation using light, wishing for prosperity, unity and light in our home, not only in Kyrgyzstan, but globally too. That was the main idea behind that installation.
Dominique:
Thank you so much. I can understand the symbolism behind your work now. I'm curious about what you mean by unity in the cultural context of Central Asia?
From a person living in Eastern Asia right now, for instance, we are neighbors with Korea, in Japan, Korea and you have also China and Taiwan, but we are separated by sea. So, basically, Korean people wouldn't think Chinese culture and Japanese culture are the same, or Korean culture and Chinese culture the same. So, from that perspective, when I look at the Kyrgyz culture of using yurts, and for instance, the Mongol peoples' yurt, I almost see the same cultural roots in the background. Maybe you have the same historical roots for the many nomadic people living in Central Asia and also in Siberia, but what's your vision of unity in Central Asia? Do you include Kyrgyzstan, Kazakhstan, Mongolia and all the surrounding countries? Or is there any border?
Altynai:
That's a good question. To be honest, I believe that it is like everywhere in the world; there are physical borders everywhere and mental borders within people, but when one looks closer, we all are quite similar to each other, and fundamentally what unites us is that we are all human beings.
As of kyrgyz, we belong to the Turkic ethnic group. Our ancestors come from the Eurasian steppes and mountains of Altai in Southern Siberia. There are many small ethnic groups all over the world that are believed to be our relatives. Even in Japan, there are Ainu people in Hokkaido that are believed to be connected to Central Asians somehow. Also, the Native Americans are believed to be our long lost relatives as well as some Hungarian tribes. I've heard all these theories, but I haven't studied them.
But when I say unity, it's probably all the people who have similar values; I think nomadic cultures have so many things in common, like being one with nature and animals are such a huge part of our lifestyle and psyche. When somebody gets married, we have a saying, "We wish for you to have children before you and the animals behind you."
And what's happening now, it's this whole destruction of both nature that surrounds us and the animals. And I think that's why, again, Beuys, when I first read about his performance with the coyote in New York, I wasn't that surprised, it was obvious to me.
Dominique:
Yes, "America Likes Me and I Like America".
Altynai:
It's so interesting. The artist is trying to perform something that is so obvious to a nomad, being connected to another animal; there is a special bond that exists. And I thought that was so interesting, because it got so much attention and hype in the press of that time. In my view, this juxtaposition of trying to connect with an animal in the New York block-building and giving attention to something that was totally discarded in the American culture, right?
Dominique:
Yes.
Altynai:
It was just kind of "Okay, anything can be art."
Dominique:
Because that performance seemed so natural for you?
Altynai:
Yeah. I don't know much about Beuys' childhood if he grew up close to animals or not, but I think in Central Asia the experience of nature and interactions with animals is so much more accessible and comes quite naturally.
Dominique:
Talking about Beuys, so I was having an intensive discussion with Selbi about how we would see Joseph Beuys' use of nomadic culture in his work. And it was quite interesting because we discussed the possibility to see it as a kind of cultural appropriation from this German artist trying to use Central Asian nomadic culture, and all his other performances where he acts as a shaman and he barks like a dog or any other kind of animal.
I think Beuys purposefully stayed mysterious, and he didn't write intensively about what shamanism meant to him, how much he embodied that and what nomadic culture meant to him coming from Germany. But his whole intention was to connect the East and West through his idea of Eurasia, right?
Altynai:
Yeah.
Dominique:
And you just taught me that you found it interesting because at the same time it's so normal for you, right?
Altynai:
Yes.
Dominique:
So would you have to say something to Beuys if he was still alive?
Altynai:
I can understand that perspective of seeing a form of cultural appropriation. But to be honest, in my point of view, I really respected his use of whatever he had used to express his view and creativity. The first time I saw his work, I was shocked because it was unusual, not a traditional sense of art as I understood it then; it wasn't something beautiful. I do understand him and I don't think it was a case of cultural appropriation at all. He was just an artist who had ideas, and he used whatever materials to convey them, and felt, fat and whatever else were the most fitted mediums for his ideas to be expressed with.
And I think I can understand him being mysterious as well, because I think art should be open for interpretation by the viewer, perhaps by being mysterious he actually gave space for the viewers to make up their own minds and fantasize or be confused. And I think he did that intentionally, like you said, to be mysterious, because art cannot be explained, and he knew that. He knew that provocation, that was one of his things, he wanted to provoke the viewer, to stir things up. Something in a person would light up and say, "Hey, this is not good," or, "I don't understand this," or some thought would ignite curiosity.
So, I think he used nomadic cultural artifacts in different performances to different extents, but I think that he did it intentionally just to see what it would be to become another person. I respect the freedom he allowed each person to interpret it in their own way.
I think that's the beauty of art. You can see what you want to see and what relates to you. In Beuys' performance I saw something so similar to my cultural background, but just the way he made it, the way he performed it was different. And yeah, I think it is alright if somebody else sees something totally different.
Dominique:
I believe you found his work when you were a student at Central Saint Martins. And as a person coming from Kyrgyzstan, studying in UK, and finding out this European artist working with felt, which is a really familiar material for you, what was your personal feeling about it?
Altynai:
I was just surprised and happy because, to be honest, I was 18 when I first discovered him and his art. Felt was always for me something common and simple and, again, used in traditional crafts and everyday life. I mean, it is a material that I am familiar with since I was a kid, but I never thought of it as a potential material for fine art. When I read about him, I realized, "Anyone can be an artist," first of all. And secondly, any material can be a medium to express an idea or relay a certain feeling!
I realized that it's not important how it looks as long as it shows a strong idea. So, Beyus's take on art had made quite a big impact on me. I've learnt that if you have something to say, it doesn't matter how it looks, find any means to express it. So, that's one of the big lessons that I got from him. And his use of felt has made me see this common material in a new light that I can use it too and reinterpret it my own way in my art.
Also, his aesthetic language was quite impactful because his visuals are just… I can't explain it really well, but it's so raw and so German in my view. It made me think of creating my own visual language that can be recognizable and impactful.
Dominique:
Yes, very meticulous yet direct and straightforward. This time, we throw a cultural stereotype against Beuys!
Altynai:
I mean, it is an aesthetic that is extremely far-away from Asian cultures. I know things are different in Asia, for instance I'm amazed by traditional arts and crafts from Japan. I mean, nobody is better than Japanese people in terms of anything in arts and traditional craftsmanship.
Dominique:
Oh, I don't know if there's any best craftsmanship, but traditional Japanese artisans are also very meticulous. But it's interesting you see it that way. Now, listening to you talking about Beuys makes me almost feel like, if he was still alive, he would do something like you are doing today. So maybe you are the social sculptor, because you're not obsessed by just one field of form of expression. You're not concerned about identifying yourself with just contemporary art or just fashion design, but you also do social entrepreneurship, and you also do visual art, and now video art.
But you're not doing art for art's sake, I should say. And maybe that's what he was trying to convey from the art world, which was kind of ironic I think. I was just imagining Beuys still alive and very happy to see people like you, and he would still learn from people like you.
Altynai:
He tried to make an impact on society, right?
Dominique:
And in politics especially. He had a very bad political life at the end of his life. He founded the Green Party in Germany, which has thrived afterwards, after that he was dead. But he was kind of betrayed by his political colleagues, because he was expelled from the party in 1984, and he was really depressed by that. And he died in 1986.
Altynai:
What did he die of?
Dominique:
Oh, I'm not sure, but he didn't die of any major disease, but I think he was just too tired, I think. He was too exhausted.
Altynai:
I remember he said something like, "You have to be exhausted," right.
Dominique:
Exactly. You have to be busy and exhausted, otherwise you're not working, which I only agree partially, because I would say we also have to learn how to rest well and obtain our wellbeing at the same time.
Now I have other detailed questions about traditional Kyrgyz culture. You sent me your book of shyrdak, which is the traditional craft of rug using felt. What does shyrdak mean in Kyrgyz language? How would you translate it in English?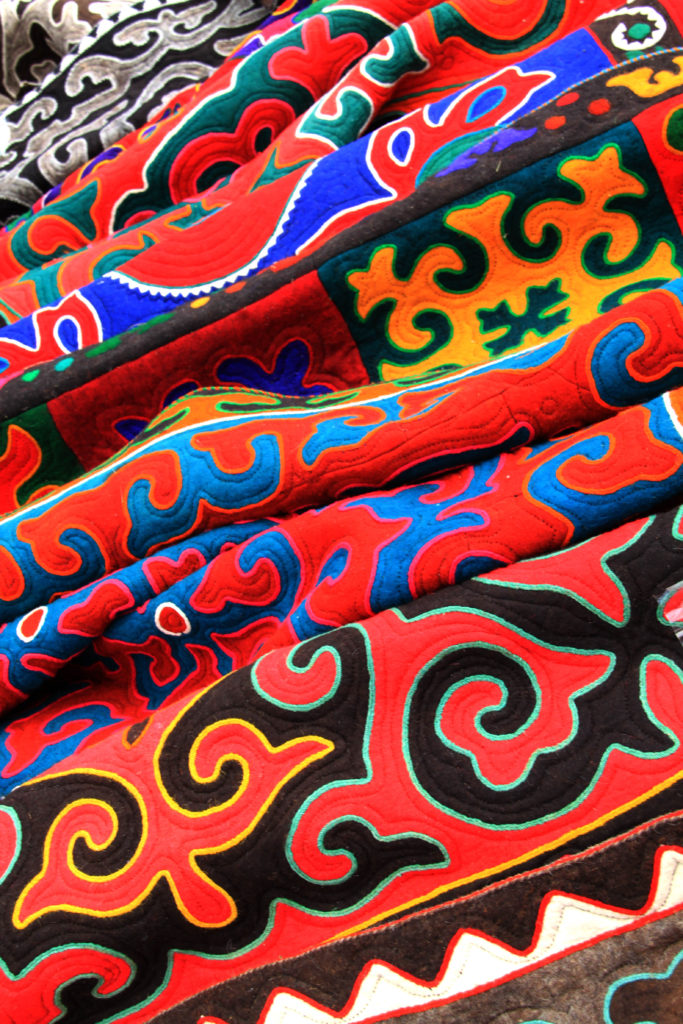 Altynai:
Yes, "shyrdak" is a kyrgyz name for a traditional felt rug that is very beautiful and durable. It is passed from generation to generation and is gifted on special occasions. Shyrdak derives from the word "shyryk', which is the name of a stitching technique used in a shyrdak to fasten triple layers of felt. If you look closely at the shyrdak, it has these tiny, tiny dots all over it; it is a meticulous and laborious process and much depends on it for the rug to be of good quality. There are not many craftswomen left who know how to do it, but in recent years it has seen a revival due to demand on online marketplaces and was included into the UNESCO List of Intangible Cultural Heritage, which encouraged artisans to continue to practice their craft and teach it to the next generation of young artisans.
Dominique:
I see.
Altynai:
Shyrdak's top two layers are cut according to "oimo", a traditional pattern with a meaning and usually resembling themes from nature. There are few artisans who are documented in that book who know the ancient names of the patterns and can actually read the shyrdaks almost as if looking at a painting. Once cut, felt fits like pieces of a puzzle and gets stitched together with handspun threads.
Dominique:
Can you read it?
Altynai:
Yeah. I am a lucky one because my grandmother knew a lot of patterns and taught me how to see the motifs and messages in them. Shyrdaks can totally tell you the story that is laid down with all these patterns, which are called "oimo".
There are only very few craftswomen left who know the full meanings of oimos and traditional techniques of shyrdaks. So when shyrdaks are made, different patterns would be used.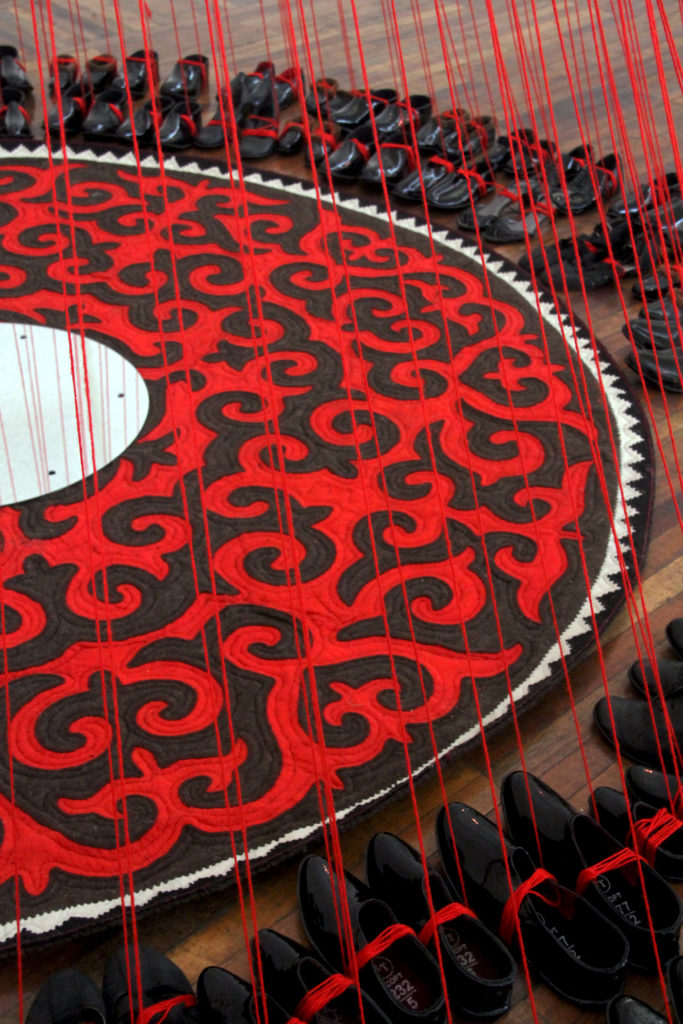 And the patterns come from nature. Again, everything is about nature. One of the main principles of philosophy of nomads is to live in harmony with nature. And it reflects in the use of motifs taken from nature in traditional arts and crafts; nature always lays as a foundation for arts, music and lifestyle. There are these mountain goats, because you can see their horns, it's all swirly, right?
Dominique:
Yes.
Altynai:
So there are patterns of a person who is sitting down and reciting Manas, there are patterns of eagles and marco polos, mountains, rivers and roads. And it's very interesting once you know the patterns, you can put together a story once you see the design of a shyrdak. And a lot of people do not know that the design depends on each artisan's fantasy, state of mind and purpose for which it was made. The knowledge of oimo's is slowly disappearing because nothing was written down and documented in the past. Knowledge was only passed orally from artisan to artisan, or from mother to daughter. Much knowledge is gone with the passing of a generation of artisans. There are few books on it and the younger generation isn't much interested in continuing making shyrdaks. So yeah, traditional knowledge is slowly disappearing into the mists of time.
Dominique:
So that's the storytelling patterns called Oimo, is that correct? Which is quite funny because in Japanese, Oimo means potato, a very polite form to say potato, which is quite cute.
Altynai:
That's funny!
Dominique:
So people are forgetting the meanings of those Oimo patterns and the symbolism behind them. I can imagine it's going to take you a long time to do a research with people who still understand that. And is it possible to retrieve the meaning of those traditional patterns?
Altynai:
Yes. In that book, we have dedicated few pages for oimo translation, but it can't compare to a beautiful way a true craftswoman can tell it herself.
Dominique:
That would be another really interesting project. What's the symbolism behind all those colors you used in shyrdak rugs?
Altynai:
Except for natural colors of sheep wool like dark brown and beige, kyrgyz shyrdaks are usually made using three main colors; they are red, blue and green. Those colors are used in the most traditional shyrdak designs, but there is a massive variety now due to available synthetic dyes. Again, the colors are very primitive, very simple. The blue is the sky, the green is all nature, the pastures, the grass, and the red is beauty, because red symbolizes beauty to kyrgyz people.
Dominique:
Beauty, like human beauty?
Altynai: Just beauty. Beauty is red, and the color of life is red. And that's why… I don't know if you've heard about Kyrgyz nomads of the Pamir in Afghanistan? There's this quite famous National Geographic expedition that went to the Pamirs to document the lives of the Kyrgyz nomads living there. All girls and women wear red. The images were stunning with tough yet vulnerable girls and women in red living in harsh conditions high in the gray and white mountains. The contrast was so stunning.
That is also why the interior of the yurt is red as well because red is the color of beauty for kyrgyz people.
Dominique: I see. And also, I was quite interested in the mixed use of felt and silk by that artisan you wrote in your article of Farzana. Is silk a popular material in Kyrgyzstan?
Altynai:
No, silk is a rare material in Kyrgyzstan. During the soviet times we had a silk factory, but since its collapse, silk production stalled unlike in Uzbekistan where it thrives. So most silks we use for nuno felting, we order from India and neighbouring Uzbekistan. Nuno felting technique was, if i remember it right, invented by a Japanese textile artist. I remember the Central Asian Craft Support Association (CACSA) inviting Japanese nuno felt artisans to teach local craftswomen working with felt, their techniques in the early 2000's. SInce then, nuno felting became extremely popular and developed into a movement within the felting communities in Kyrgyzstan because it was so innovative and refined. It allowed artisans to reach new markets both local and international due to the significant improvement of the designs and quality of products. Silk has added a luxurious touch to a more rough felt, making it a successful marriage of two materials and becoming a beautiful fine textile.
Dominique:
Okay, now I understand, because "nuno" means cloth in Japanese. But I wasn't imagining it came from Japanese actually, so I'm surprised. I just found a Wikipedia article, it seems to be actually invented by an Australian person.
I asked this question because I'm trying to find also similarities between Eurasian cultures. From eastern to central to western Eurasia. And silk is also something that was imported to Japan through the Silk Road from the antiquity to Middle Ages. And we also often talk about Silk Roads as the main channel that worked as a bridge between the east and west. I was curious about how felt and silk was mixed in Kyrgyz.
Do you have other projects to explore traditional cultures?
Altynai:
My other dream project is to publish a book on yurts and design. So we published the book on shyrdaks, the next should be yurts, and the third on Manas. But Manas is too big of a subject for me at the moment. I would like to develop "The Blessing Yurt" exhibition more and make it into a traveling exhibition on nomadic cultures worldwide. That would be so cool!
Dominique:
That's an amazing idea! In Japan, because of the coronavirus pandemic, people are really striving to go camping these days. So every weekend on the camping site, it's packed with people with cars and tents. And I'm one of them too. So the other day we went to stay in a yurt place in Japan where there were like 20 yurts gathered in one place, all stitched quite close to each other. And we had Mongolian food, and attended a Mongolian concert, it was fantastic. So I'm pretty sure many people would love your yurt exhibition, and it's going to be very popular, I'm pretty sure.
Now maybe a final question, for today at least. Also you were mentioning somewhere that you're crafting something for the horses, like the saddle for the horses?
Altynai:
Yes.
Dominique:
Great. I personally love horse, that's why I went horse riding for my honeymoon trip with my wife. But I see horse as a common thread that connects all these different cultures throughout Eurasia. There are quite a few mythologies involving horses in Japan too. A local tale from oral tradition depicts a woman and a horse who get married, but when the horse is killed by other villagers, the woman becomes one with the horse and are elevated as a natural spirit. Horse is also a link between Japan as an island and the continent, because horses were imported from the continent. And I know Mongol people, how they love horses because they are not just a means of transportation, but they literally live with humans as a companion specie. So I just wanted to know how whether there is a link between horse and other things that we have talked today, like felts and other materials, that's really important in your nomadic culture in Kyrgyzstan?
Altynai:
Yes, how interesting that you asked… Horses are my first passion in life and art comes second.
Dominique:
Oh wow. Horse is number one?
Altynai:
Yes! Horse comes first because it is another living being that I can relate to the most. Also, horses are so beautiful and intelligent. If I was not born human, I would wish to be born as a horse. My first ever personal art exhibition was called "Horses and Princesses" when I was 7 years old at the Children's Art Center in Bishkek.
Dominique:
Wao, amazing.
Altynai:
Like you mentioned, in Mongolia, people see them as their partners, or their "wings". Mongolian steppes are perfect habitat for the horses to run freely, and mongols are excellent horsemen. Kyrgyz love and understand horses as much as Mongols do. Our native horses are similar as well; small and sturdy, they can easily walk through rough mountainous terrain and withstand harsh conditions. Horses were always essential for nomadic people to survive, conquer new territories, fight off the enemies and thrive through trade, as you earlier mentioned the Silk Road. I believe that nomadic people have some sort of genetic memory and love of horses in our blood. With so much love for horses, strangely enough, kyrgyz also eat horse meat.
Dominique:
Really? Japanese people also eat horse meat.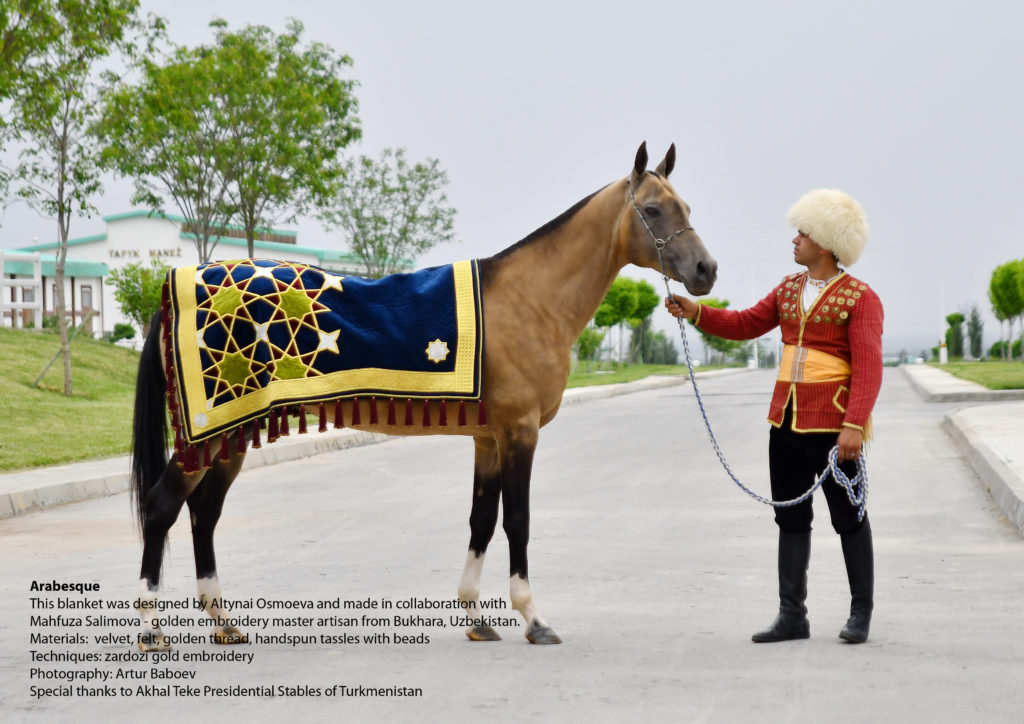 Altynai:
In my culture horse meat is considered a delicacy and is prepared only for important occasions like weddings and "toi" – big feasts. I do not consume horse meat because it is my personal choice.
You asked me earlier of other projects of mine connected to my culture; I have started quite an important project for me personally – designing horse blankets. Back in 2018, my first two designs were made in partnership with Makhfuza Salimova, who runs a gold embroidery studio in Bukhara in Uzbekistan. I went there for 2 months and designed two blankets, which were then embroidered by 8 craftswomen, who are masters of traditional golden embroidery. To design the blankets, I had studied traditional horse blankets in the local museum, where there is an excellent collection (starting from the 18th century) of the horse attires, saddles and velvet blankets lavishly embroidered with gold and silver threads and jewels, which were gifted to the emir of Bukhara by visiting guests, other emirs and kings.
Ironically, one of the two blankets somehow ended up being gifted to the president of Turkmenistan.
Dominique:
How's that?
Altynai:
I am not sure if I can fully and comprehensively share about it. Long story short, one of the blankets was gifted to Turkmenbashy and the second one is stored in my studio. To my surprise, I found it difficult to sell the piece; many potential buyers (horse owners) I spoke to referred to it as a gift blanket – a niche product, which is not something they would particularly use on an actual horse. Many advised me on developing more art pieces with a horse theme that would be possible to hang on the wall, even if it is in the shape of the horse blanket, because an art object is more valuable than an object for practical use. So, I realized that I need to reformat my approach and view it as more of an art project. Once I'll have time and more resources, I shall design a series of art objects connected to horses, be it more contemporary horse blankets used as modern wall hangings or else, where I'll be able to show my appreciation and love for such beautiful beings from a nomadic perspective.
Dominique:
Contemporary horse blanket.
Altynai:
Contemporary imagery, but on horse blankets. Why not? It is another project in itself that I am hoping to restart sometime in the near future.
Dominique:
Very interesting. I just found this image of an old Bukharian horse blanket on the Web. It's really ornamented, and the use of this goldish yellow color really gives a rich impression. How does this culture of horse blankets and Oimo patterns connect to each other? Do you also use Shyrdak rugs for horse blankets, or are they separate things?
Altynai:
Underneath the saddle we usually put down thick felt. It is soft and several layers are thick enough to protect the spine from the hard saddle and also, it absorbs the sweat of the horse. Due to felts' plasticine-like qualities, under the pressure and wetness from the sweat, it ideally shapes into the natural form needed. Felt is such a magical material as it can morph into any shape and form, stretch and shrink. Also, it is extremely durable. If you heard about the "Scythian Steeds", 13 horses that were excavated from the Pazyryk kurgans in Altai mountains were fully decorated in lavish gold and felt blankets.
I remember when I was a kid, I wouldn't use saddles to ride a horse, I would be put on top of the horse with only a piece of felt, being the only layer of textile between me and a horse. So felt was always used for horseback riding, making both the essentials for a nomad.
Dominique:
Do you still ride horse from time to time?
Altynai:
Yes! We went for this one month expedition to the mountains on horseback. And I do ride often. At least several times a month I try to go out and just have time with horses. It's the best time. And it's so close by, in Bishkek. Have you ever visited Bishkek?
Dominique:
Unfortunately no!
Altynai:
So I think I officially invite you to visit.
Dominique:
Thank you! I want to visit so much.
Altynai:
Mountain camping with horseback riding. Whenever you feel like it, the best time is probably spring or late summer. Autumn is also a very good time to visit Kyrgyzstan when all colors are hued and calm.
Dominique:
That's going to be my dream travel. I will definitely go. I think I will bring my wife and my kid. So do you spend most of the time in Bishkek and visit the countryside in your spare time?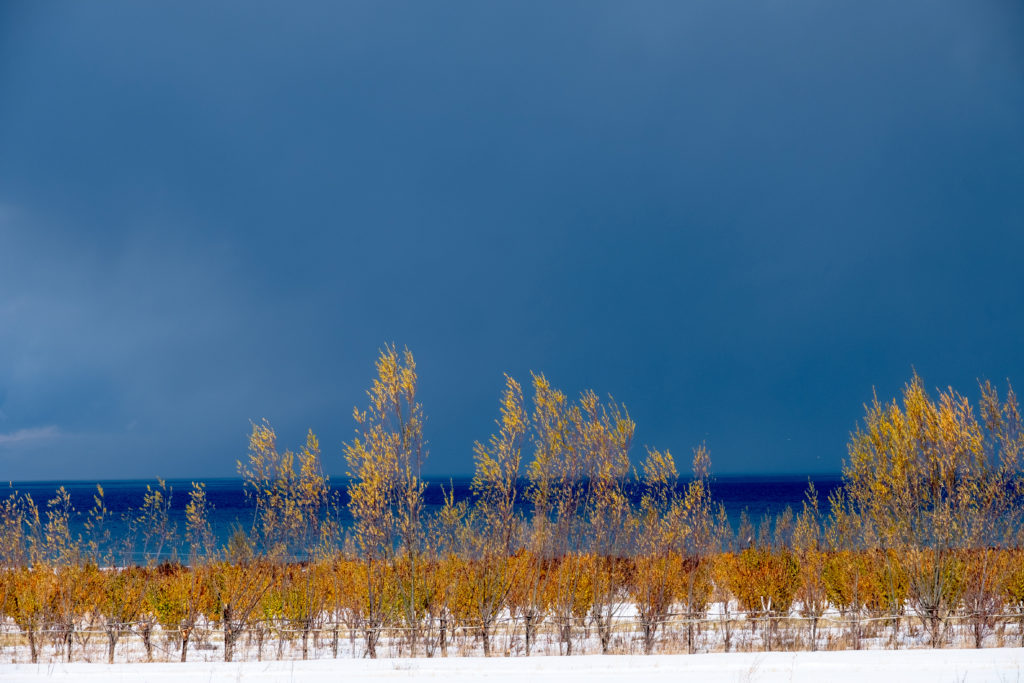 Altynai:
Yes, I live in Bishkek, and I recently bought two lands near Issyk-Kul. It's the second largest mountain lake in the world. The lands are located right on the shore, and I found a business partner who is willing to develop an eco-glamping site together. We are planning to build traditional Central Asian houses from clay, a technique called "sokmo", similar to adobe structures. The dream is to make this land into an art residency of Central Asian, so that artists, musicians and all other creative people can come and work in the studios and relax on the shore of Issyk-Kul.
Dominique:
How amazing is that. I would definitely stay there for a long time, if I can get funding!
Thank you so much for your time Altynai, and thank you for teaching me so much about your culture. Keep in touch and talk to you soon!
Altynai:
Thank you too. Talk to you soon.
---
In this interview, Altynai taught me a lot about the historical culture of Kyrgyzstan. In particular, I found her attitude of freely reinterpreting tradition in a contemporary context, not only in contemporary art and fashion design, to be very sympathetic and encouraging. In her case, I was fascinated not only by her reworking of traditional motifs with a modern sensibility, but also by the fact that she is an archivist of traditional culture, having published a book on Shyrdak together with her mother. She is not only concerned with preserving the heritage of the past or following the new trends of the present, but she also creates various works as if she is confirming her own place in history, and I feel that there are multiple layers of time superimposed on her work. This sincere gaze is rare and precious in any culture today.
This postscript was written after the exhibition of Altynai's work in Tokyo, which took place three months after the interview, and her work "Sealing Felt Self" made of felt and lead seemed to be a self-portrait symbolizing her own multilayeredness. In this mixture of old and new time, I felt an ideal harmony in embodying any specific culture.