We believe it has to be various interpretations of Unlearning, and do hope we will discover some revelations during our Summer School. We would like just to share our own experience of constant learning/unlearning in art practice. It has not to be as an instruction but rather a reason to begin discussion among participants of Summer School of Unlearning.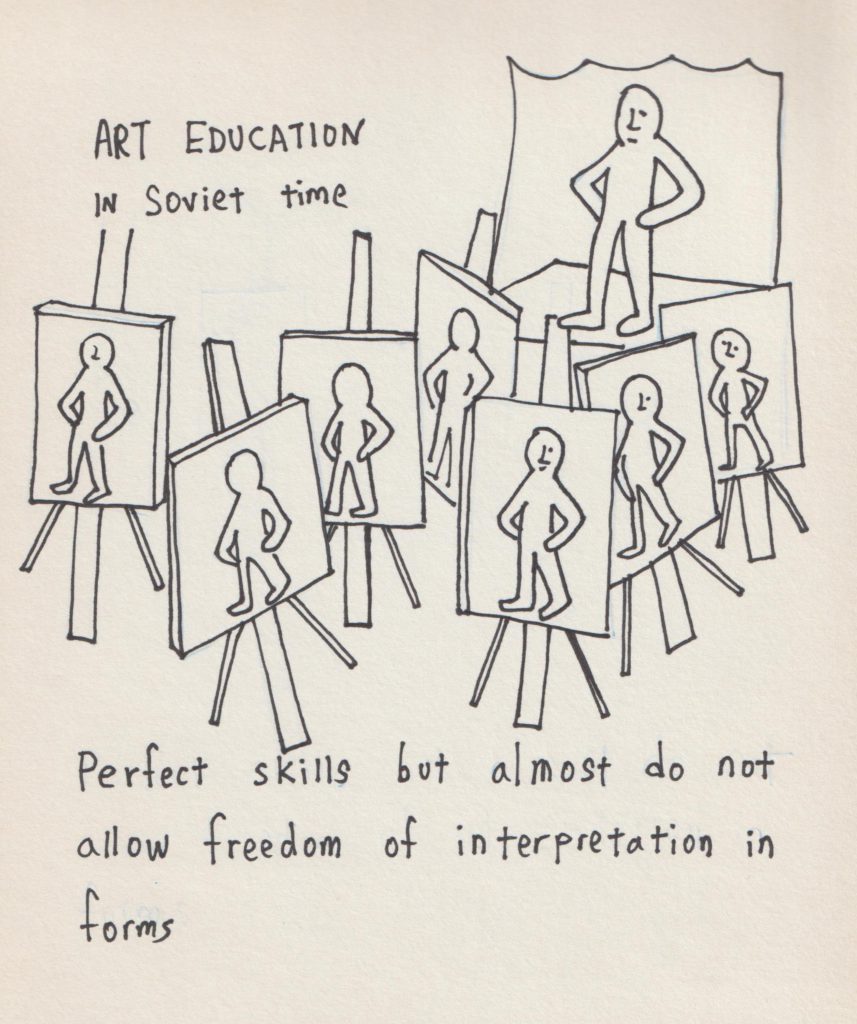 We had classical art education in Moscow and Saint Petersburg in Soviet time with endless model drawings and making tons of realistic sculptures. By the way, this system of art education still exists in art academies in Kyrgyzstan as well as in all Central Asian countries. These educational systems train perfect skills but almost do not allow any freedom of interpretation in form. To resist this system we tried to refer to modernistic art which was restricted at that time and it was quite hard to find any visual information about that. President Gorbachev partly opened a window in which the iron curtain existed between communist and capitalist systems. There were numerous exhibitions in Soviet museums that presented western modernist icons in late 80s- beginning of 90s.
Our returning home to Bishkek in 1991 coincided with the collapse of Soviet system and a heavy economic crisis. Art and culture were not supported as in previous times. For us it was not only a time of survival but also freedom to express ourselves in experiments with forms in sculpture and printmaking in a modernist style as we strive during our education. But soon we realized that modernist approaches do not allow us to reflect randomly changed socio-political situations. We lived in a completely different paradigm of unknown, wild capitalism. We witnessed tectonic changes in culture, which was not possibly reflected by modernist approaches. We have slightly changed our media and began to work in photographs, video, installations since the late 90s.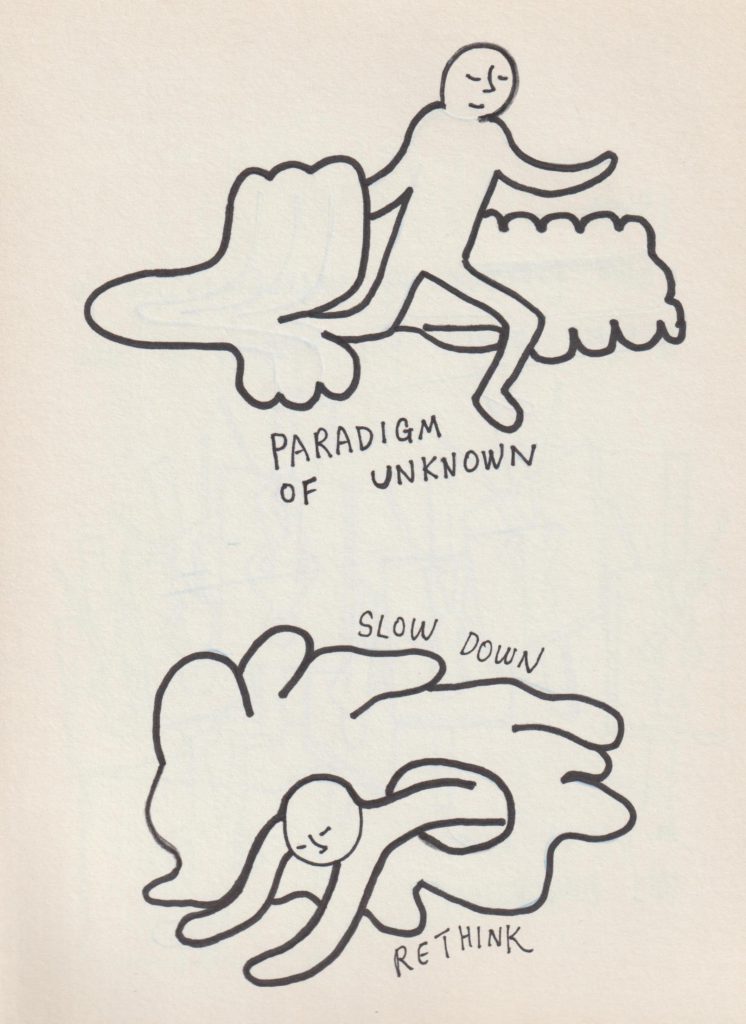 We quite succeed with our work in new media. It allowed us to participate in numerous exhibitions abroad, to see other artists' work in biennales and museums. But coming back home from international events every time we faced a lack of art institutions and art community in Kyrgyzstan. «Institutions are everything!» – was a slogan in the Central Asian art community of contemporary art in the first decade of 2000. The First Bishkek Exhibition of Contemporary Art organized by Kurama gallery was very successful and allowed artists from Central Asia to participate in the Venice Biennale. Revolution of 2005 in Kyrgyzstan destroyed all plans of the gallery and forced the owners to emigrate abroad.
We felt some responsibility to continue Bishkek International Exhibitions and tried ourselves as curators in three editions until 2008. The last and the biggest one – «Boom-Boom» – we curated together with Bishkek based architect Ulan Djaparov. Besides three venues of exhibitions it also included conference, urban interventions and workshops. This event attracted more than 60 international participants but we were frustrated that only 6 artists from Kyrgyzstan could participate. We were completely exhausted. We realized that a megalomaniac art exhibition is not the way to build an art community. We did not know what to do and the solution came from a completely unexpected direction.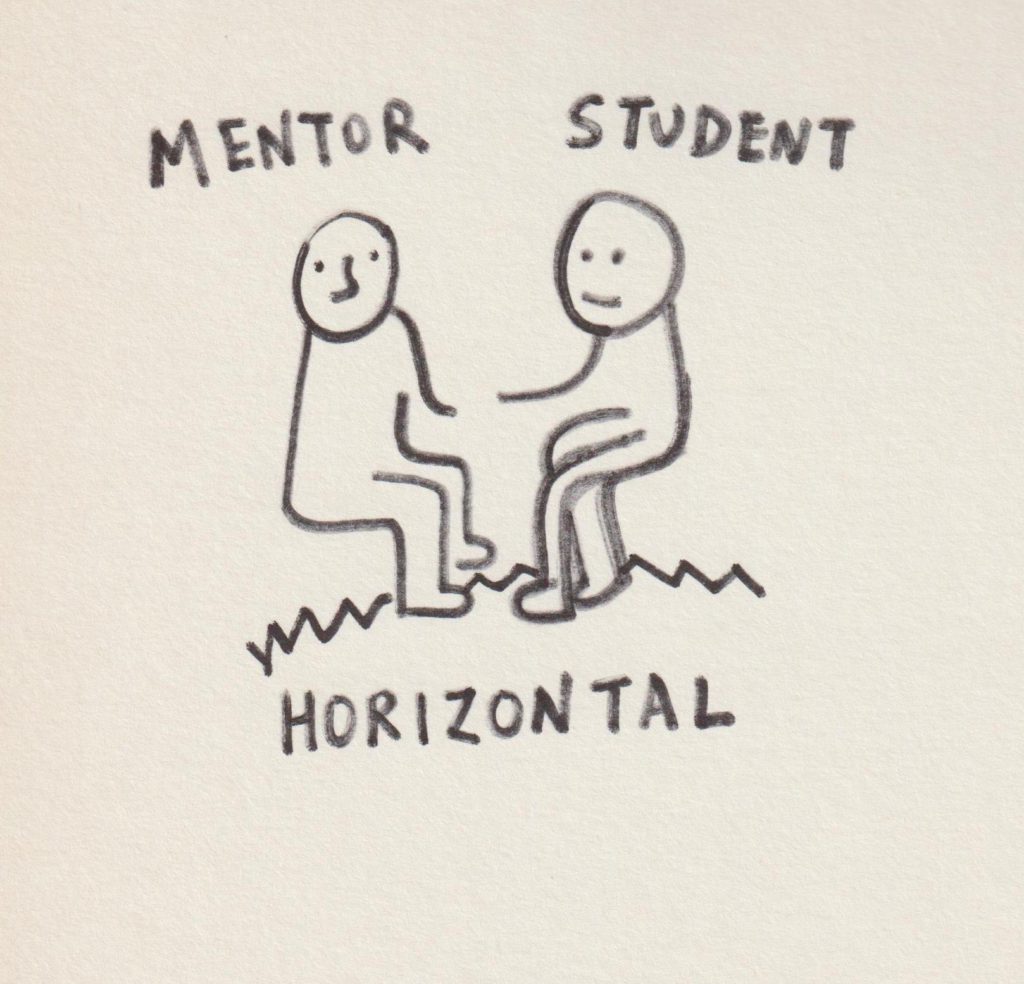 One day our son came to our studio with his friends, students from university. During our discussion they are very interested in contemporary art. We felt that we needed to begin something like a school. In 2009 we decided to test a School for Contemporary Art, a project based on the idea of a horizontal relationship between 'students' and 'mentors'. There were no lectures, only presentations of students and discussions at the round table. Theory of 20-21 centuries art combines with practice according to the curricula we wrote intuitively. The first year of the School we ran without any external support, but it was so successful that the school attracted the attention of international donors. With some breaks the School worked until 2019.
In 2020 our former students continued the School. They attracted more participants and as a result it was formed as a new independent platform based on solidarity and friendship. At the same time all of us faced a new challenge: COVID-19 thoroughly has shaken this World and it will never be as we are accustomed. 2020 made us isolated and changed some of our behaviors. It gave us a chance to slow down and rethink. This decade will show how we use this opportunity.