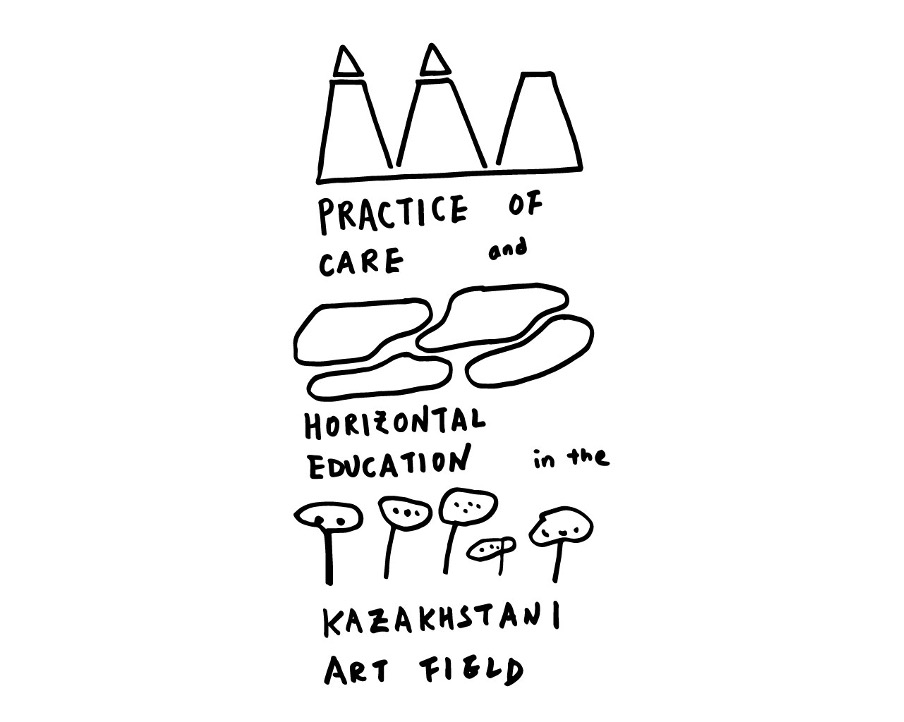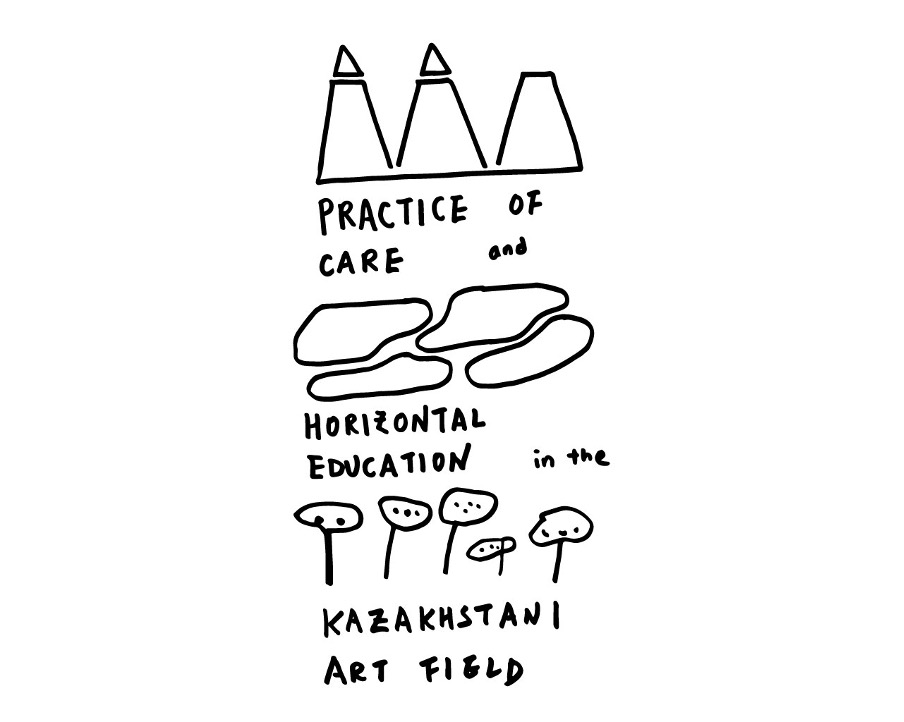 Curatorial practice implies a process of continuous learning and unlearning, conditioned by the contexts in which it is implemented, especially in the non-institutionalized environment of Central Asia, from which I work together with my colleagues from Artcom Platform(1). I have been involved in interdependent curating, community care and horizontal education in contemporary art and culture in Kazakhstan since 2015.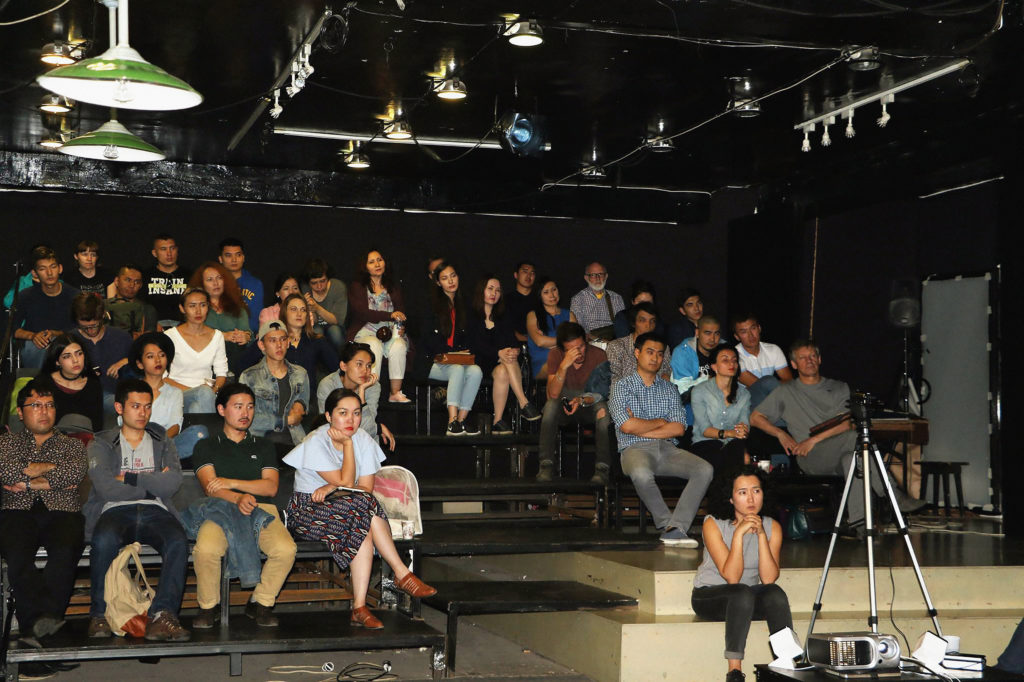 An invitation to collaborate in the frames of the educational program "Summer School of Unlearning" of the project "beuys on/off" seems to me an exciting opportunity to be together and exchange experiences, although we can only meet in online space with the participants of Korea, Japan and Kyrgyzstan. It is unlikely that such a project could have happened if we had not been in the current pandemic, when different locales can easily connect online, as the most accessible. During the pandemic, I was an organizer/participant in several online International educational programs for curators and artists, including the International curatorial program What Could/Should Curating Do?(2) as a tutor. Now when we are even more segregated by boundaries and constraints, creating space for interaction in hybrid realities becomes especially valuable.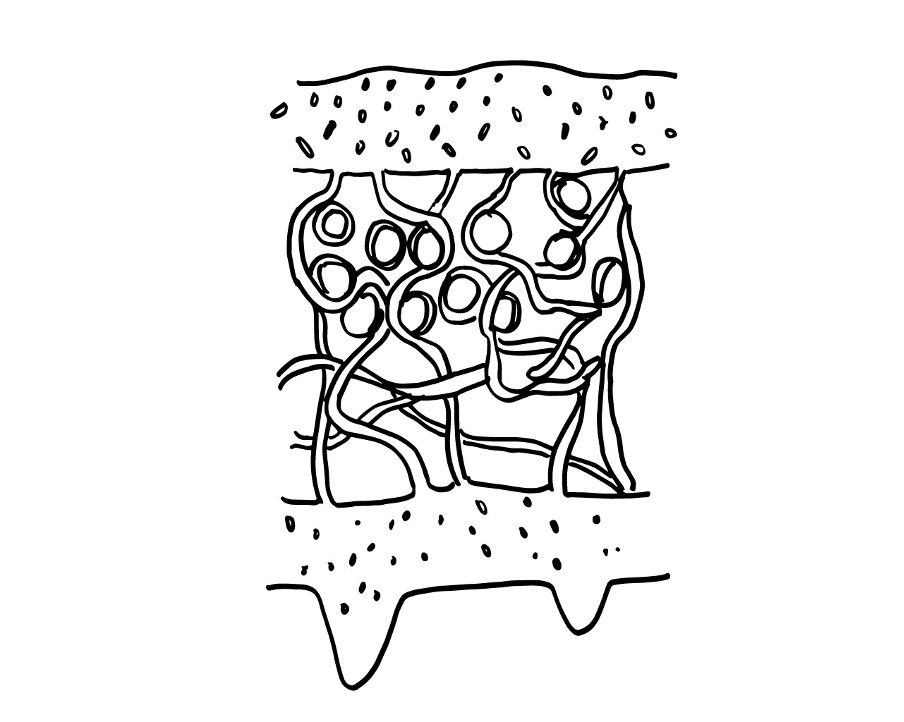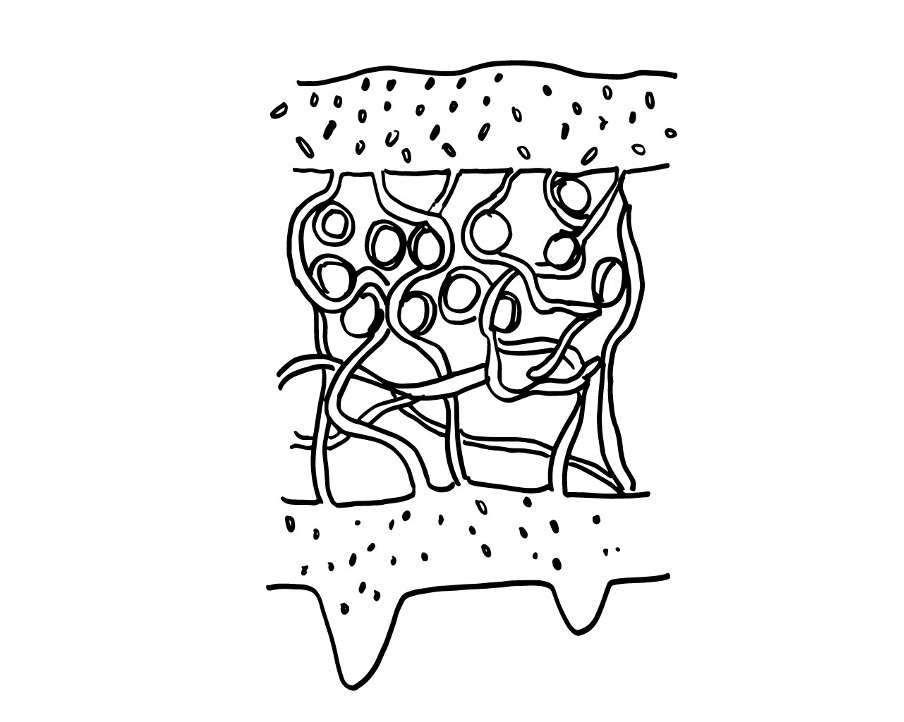 In order to introduce you to a little context of what it means to practice contemporary art and horizontal education in Kazakhstan, I'll start with the fact that our infrastructure is still being formed. There is no system of support for artists and grassroots initiatives, current educational programs are rare, contemporary artists have to work in a flickering mode and work additionally for financial sustainability in order to continue their artistic practice.
In Kazakhstan, as in many post-Soviet countries, academic art education remained at the level of the Soviet school, where there is no place for a critical view and the history of art ends in the 80s of the XX century. Students who graduate from such universities have to unlearn in order to get connected with reality and the current agenda. Unfortunately, not everyone succeeds in overcoming the barrier of the socialist school, where the artist and art were at the service of Soviet ideology.
I didn't have access to art education, I didn't know how to pass the creative exam to enter the Academy of Arts. Because I grew up in the north of Kazakhstan between the post-Soviet state farm Privolnoye (Freedom) and the Kazakh village called Madeniet (Culture), where there were no art schools even for those days. My family would not be able to pay for university studies, it was important for me to receive a state educational scholarship, so I entered the history department of the Kazakh State University named after Al-Farabi. So I was fortunate enough not to have been subjected to a conservative art education, which definitely became my advantage in curatorial practice. I don't know if I would have been able to think critically and experiment in art in the same way after going through academic school.
The scene of contemporary art in Kazakhstan has been actively developed with the collapse of the USSR. In the first decades of independence, an active process of formation of the artistic environment took place, the Soros Center for Contemporary Art worked in Almaty, international funds, business structures, actively supported the activities of artists, dozens of private galleries were opened, but by the middle of the second decade, the pace dropped significantly. The center closed, foundations ceased their activities, and state art institutions and programs did not turn their attention to the support and development of contemporary art.
It was in this field that I started my curatorial practice with the initiation of Artcom (2015) – community based public engagement art platform. My initiative was supported by the art community, artist Gaisha Madanova, art critic Dilda Ramazan, director of the Tengri-Umai gallery, Vladimir Filatov provided us with a platform for meetings and joint work. As a response to the current situation in the art scene, the main goal of Artcom has become the formation and support of an environment for the sustainable development of modern culture and art in the region. Our important tasks were: creating a public educational platform for interdisciplinary dialogue, involving cultural workers, scientists and the general public in the production of knowledge.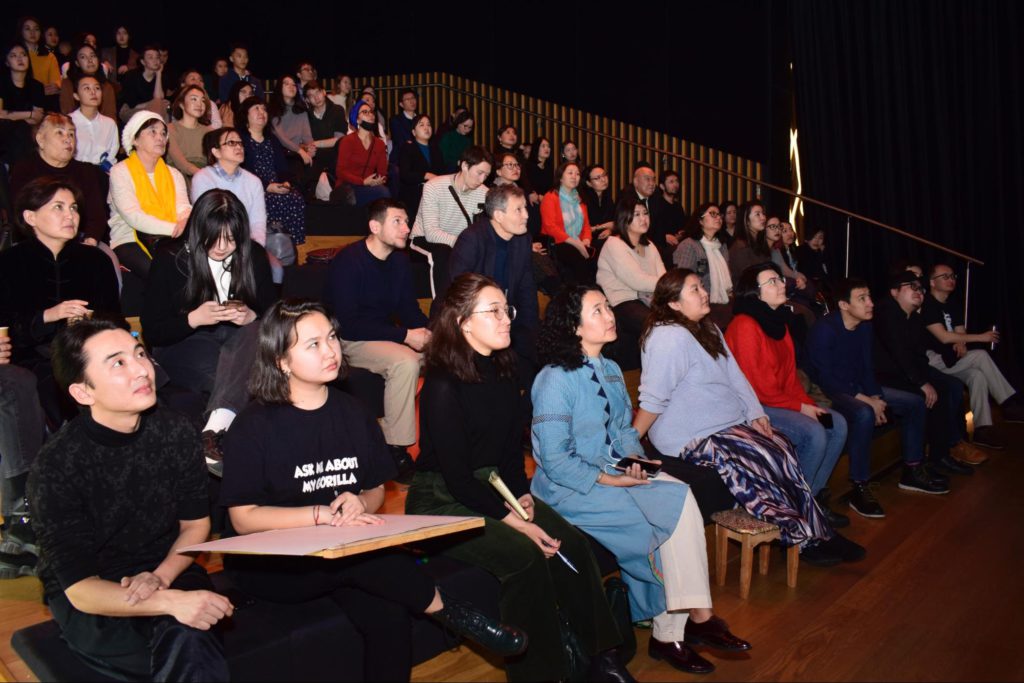 In 2017 in Astana, together with artists, I initiated an open alternative school "Art Collider" – when art meets science, where artists, in interaction with anthropologists, sociologists, philosophers and ecologists, conduct research practices, exchange knowledge through public lectures, discussions and workshops on a volunteer basis. Based on art research, art interventions, excursions and field trips, we present interdisciplinary exhibition projects.
I see the practice of contemporary art as a way and a method to stimulate social change in society. In this regard, my curatorial practice is focused on building a sustainable artistic community with critical thinking.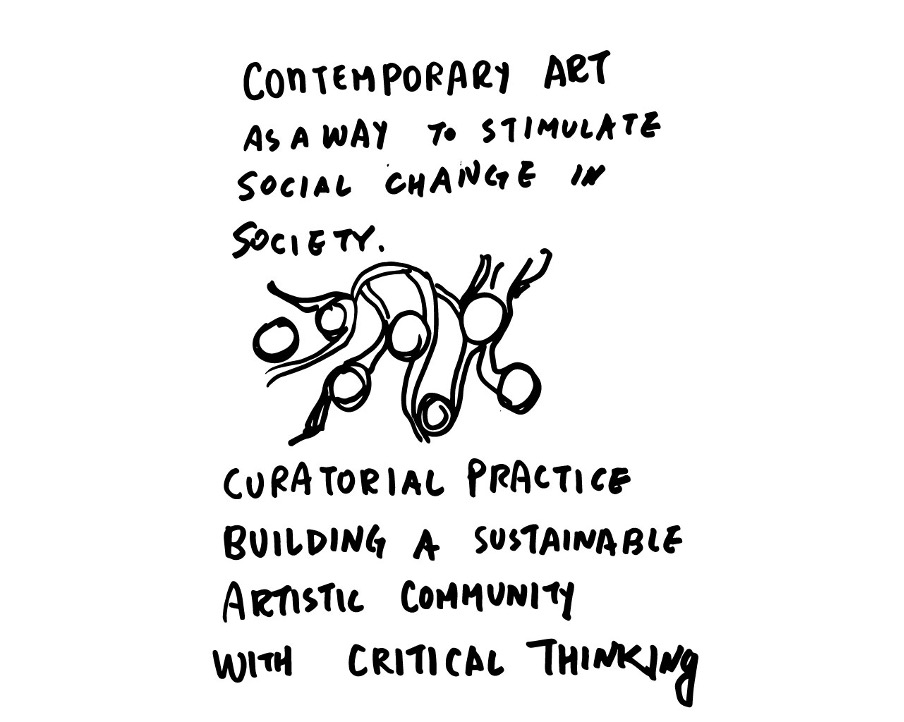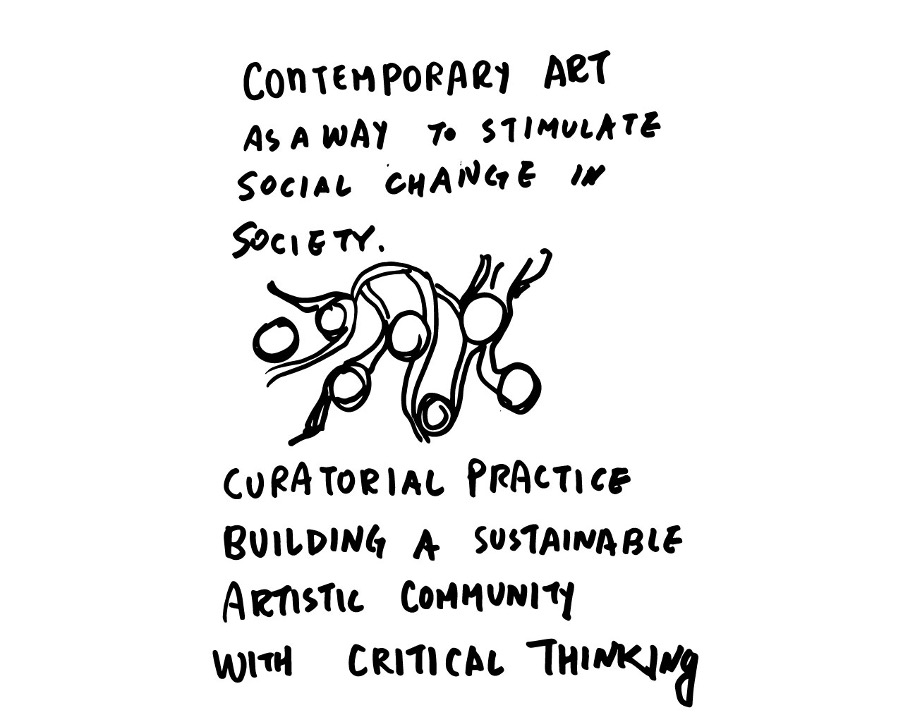 For me it is important through joint educational, research / exhibition projects to find new ways to interact with the public, creating a dialogue and to overcome gaps and alienation in the postcolonial society.
My optics are geared towards rethinking the historical past, nomadic heritage, collective and traumatic memory, making sense of the present, caring for the environment and ecology to imagine a sustainable future. For that, it is important to unlearn to think as from the soup Soviet communist paradigm seasoned by neo-capitalism.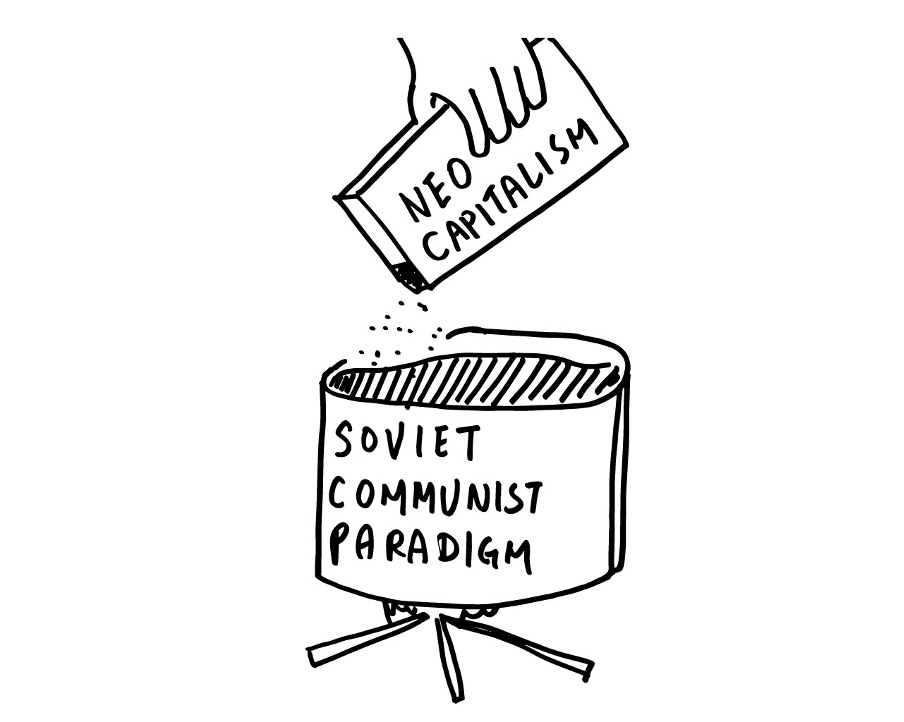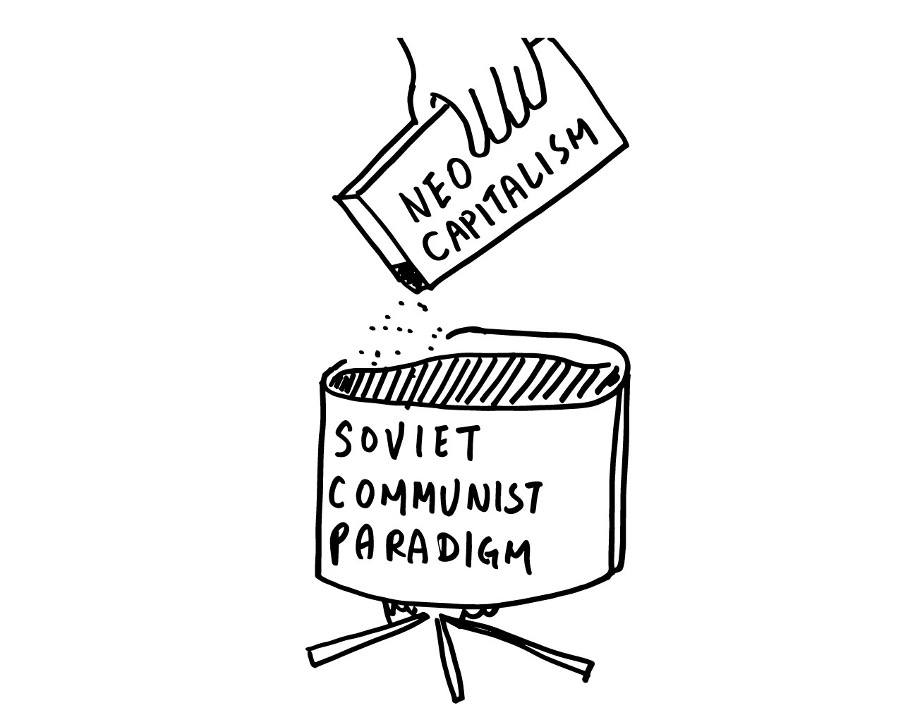 I am interested in artistic practices to expand the social function of art, here I am in solidarity with the practices and views of Beuys. Nevertheless, I have questions about some of his actions, which we can today define as cultural appropriation.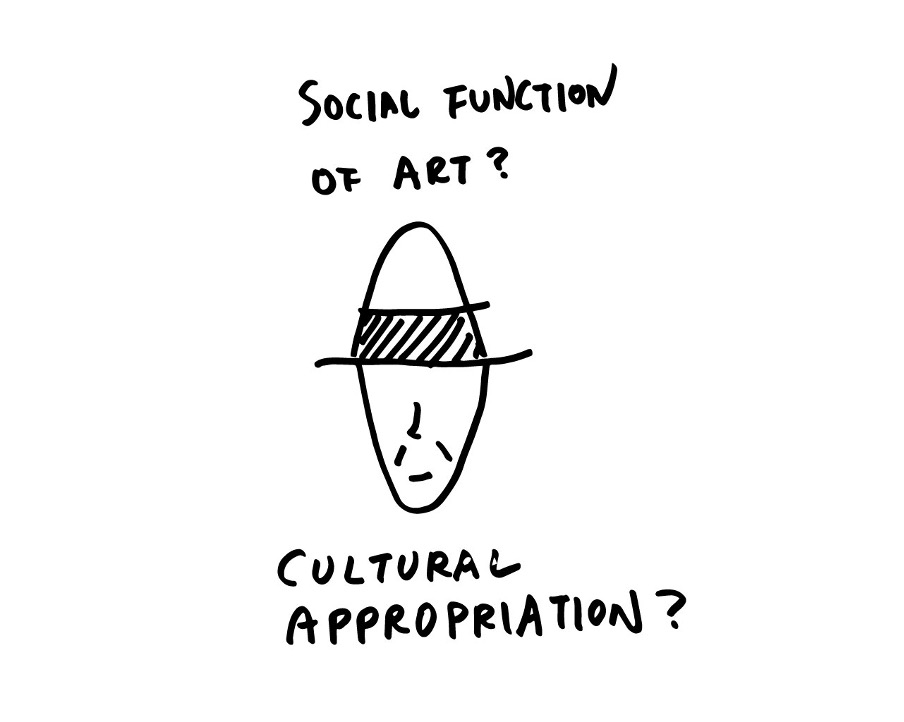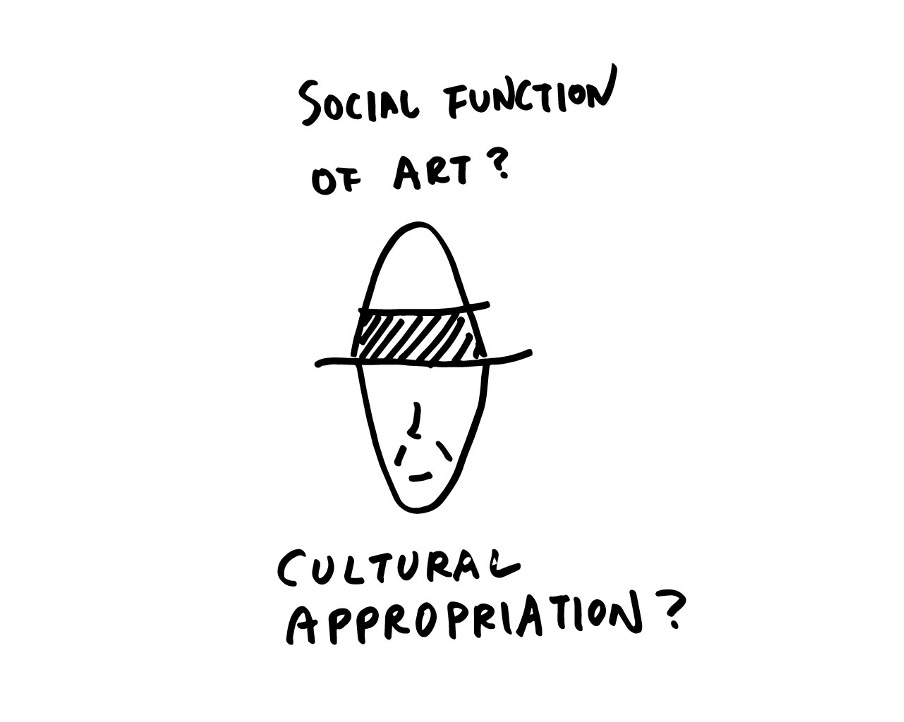 In 2018, in Astana, together with the Georgian artist and curator Wato Tsereteli, we held the Next Reality workshop and exhibition as part of the TEDxAstana program. As part of the workshop, we invited artists to shift the focus from personal art practice to social reality. Thanks to this, the new initiatives of artists appeared in the Artcom ecosystem: Aigerim Ospan created a project to strengthen the community of neighbors "Korshiler", Aisulu Shaikenova a project to bring the Kazakh language and townspeople closer together "Jaqyn Sozdik" and Aruzhan Zhumabek, the urban community "Aul picnic", and others.
The Artcom Platform community has been operating for 6 years already. We still do not have our own physical space, where we are limited in funds and resources. We collaborate with museums, libraries, universities and galleries, thus bringing the communities and the public of these institutions together, which implies a constant process of exploring new opportunities and situations, which by its own keeps us on our toes and allows us to remain flexible.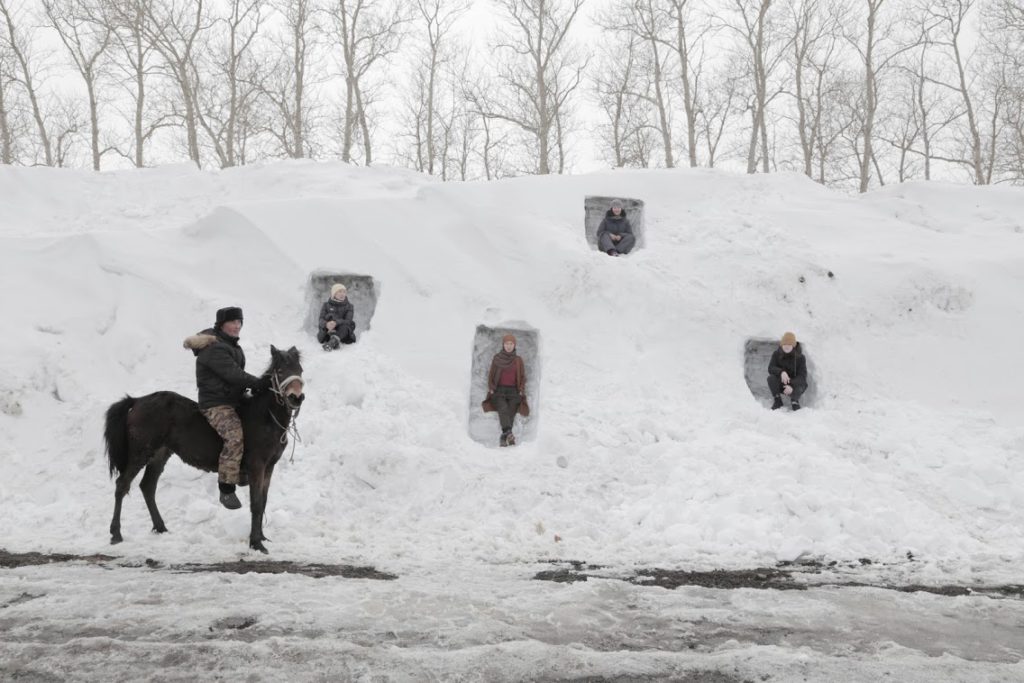 Artcom exists thanks to the active participants of the platform and the support of the public, together we have implemented dozens of projects, exhibitions, and educational programs. In the last year, we received the legal status of Public Association and in connection with the pandemic we are reformatting our activities into an online format. Now the group and I are developing Steppe Space – a virtual space of contemporary culture and art in Central Asia with the support of the Kusto Help charitable foundation. We transformed the Art Collider school into a three-month intensive program in the course of the collaborative workshop "Make your school" with Wato Tsereteli and me in collaboration with artists, designers, IT specialists, poets, sociologists and researchers: Anuar Duisenbinov, Asel Mukasheva, Selbi Jumaeva, Arman Sain, Aruzhan Zhumabek, Aida Issakhankyzy, Gali Akhmetov, Diana Kudaibergenova, Anvar Musrepov, Konstantin Kupriev, Madina Sargali, Medina Bazargali, Maya Sagym, Olesya Kotova, Sultan Musakhan and Ruslan Kastani.
The Steppe Space: Art Collider program(3) consists of courses, including theoretical and practical parts, in such areas of knowledge as sociology, contemporary art, anthropology, ecology, philosophy, psychology, history and management. The program of the summer-autumn 2021 stream began the other day and is aimed at theorization of local knowledge, the learning of the cultural landscape and heritage, the creation and implementation of artistic / research / social projects of participants throughout the educational process. The stream's mediator is implemented by Asel Mukasheva, Wato and I will be curators and tutors.
We invited participants from Almaty, Astana and Balkhash cities to participate in the school. More than 100 people responded to our "open call", which indicates the shortage and popularity of such programs, but unfortunately we can only cooperate with 25 participants, but the entire lecture program will be available to everyone on our website. Whenever possible, we also translate lectures into English, which will allow an international audience to have access to knowledge from the Central Asian region.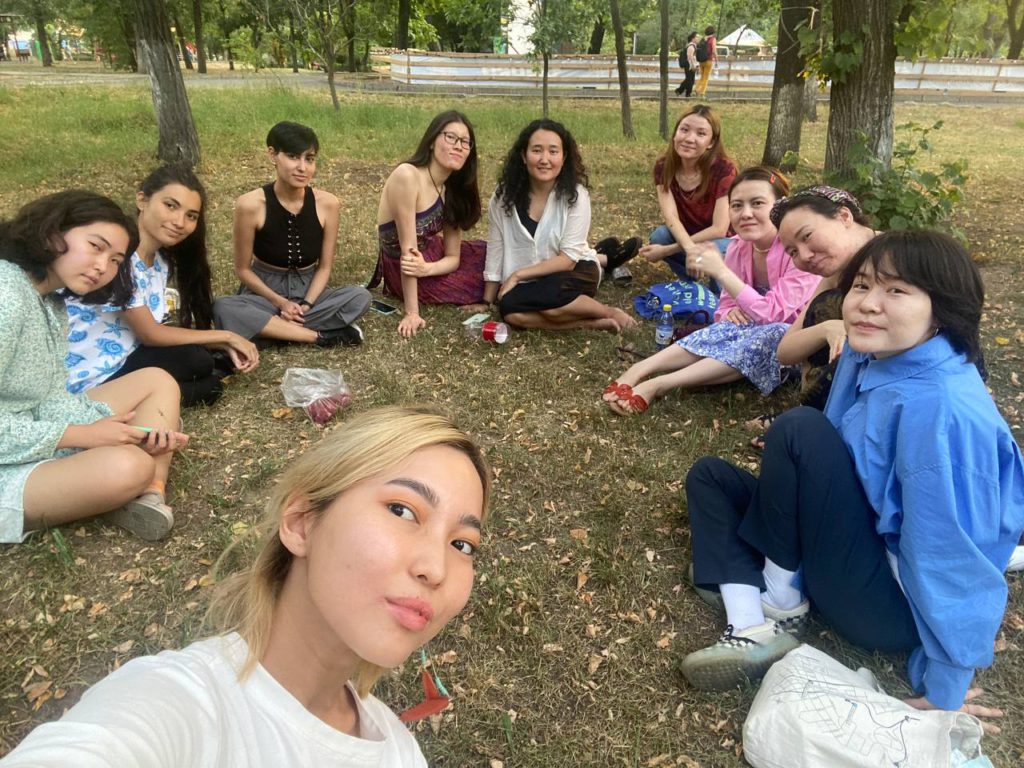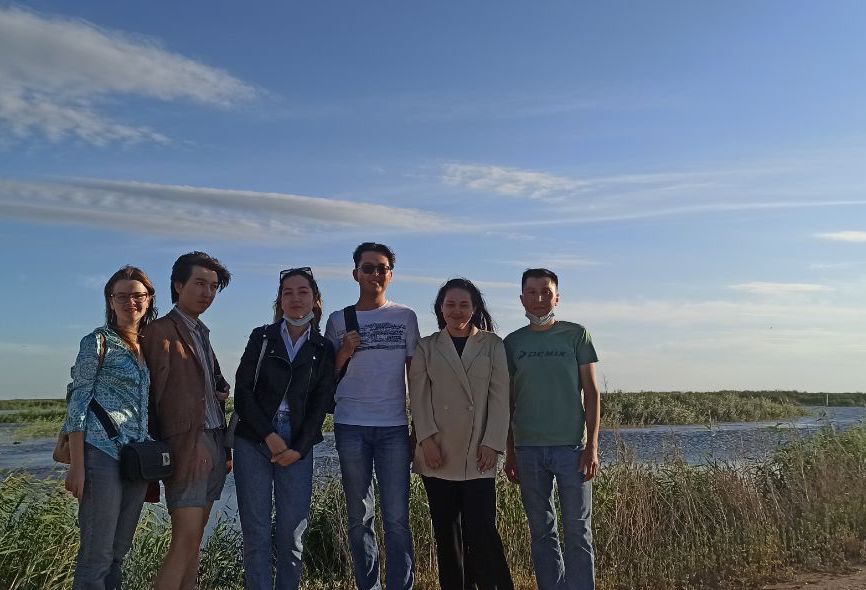 "Summer School of Unlearning" starts very soon, artists from Artcom Platform will take part in it: Daria Temirkhan, Head of the department of care and management of our projects, Medina Bazargali, one of the developers of the virtual exhibition space Dala, Dana Iskakova is in charge of the Steppe Space project and Maya Sagym community leader of our SOS Taldykol initiative to save lakes in Astana. We are looking forward to meeting with colleagues and will be in touch and share news.
Artcom Platform https://en.artcomplatform.com
What Could/Should Curating Do? http://wcscd.com
Art Collider: Steppe Space https://www.artcomplatform.com/art-collider-2021