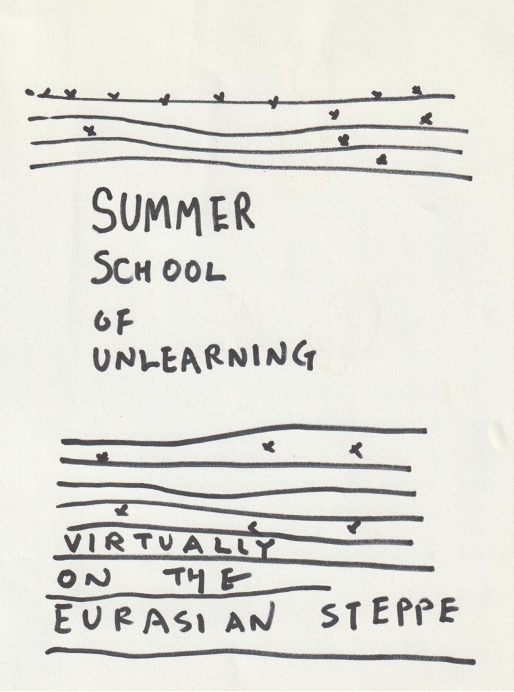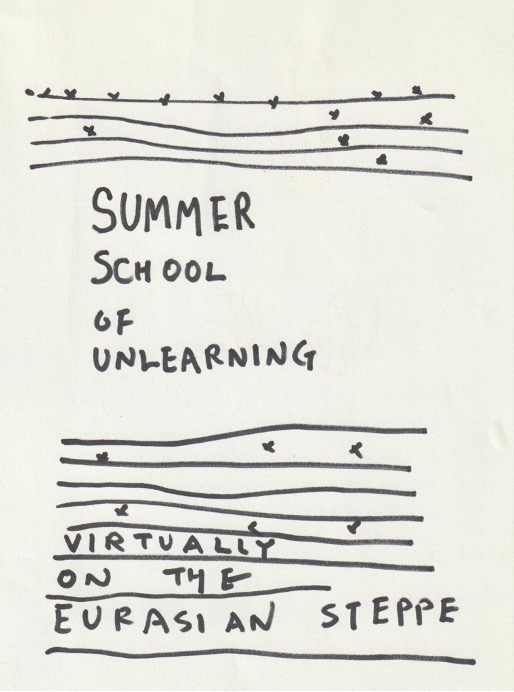 Unlearning is challenging what we learn and how we learn. In response to beuys on/off's invitation to creatively interpret Joseph Beuys and the Free International University, Jung-Yeon Ma, Jaemin Shin and Teyoon Choi, began collaborating in January 2021. Over the seven months, we worked together on the administrative and ethical complexities of an international exchange project, curation of guest associates; our local partners in Central Asia, and recruiting the participating artists in four nodes. On July 15, 2021 7pm KST, all associates and participating artists joined the online meeting for the first time. With a hint of excitement and nervousness, everyone introduced their work and interests in short presentations. The meeting was conducted in English with occasional interpretation and summarized notes on the zoom's chat box. In this post, we will introduce the participating artists in order to capture the essence of the first meeting.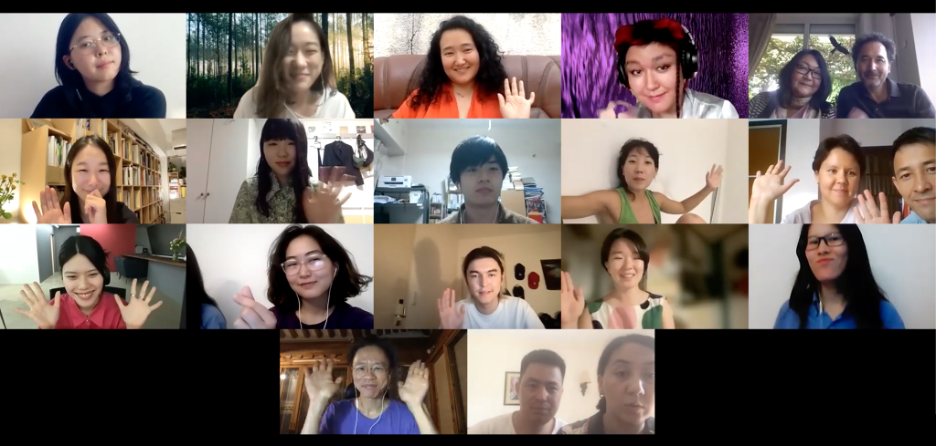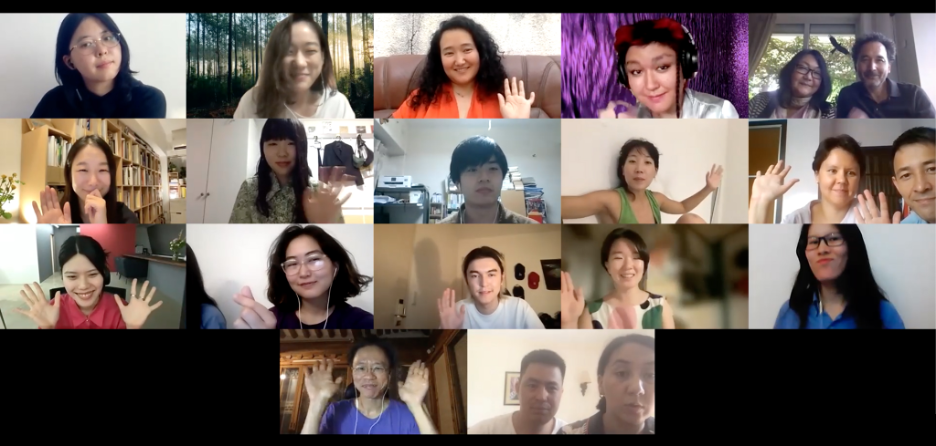 Associates
Taeyoon Choi spoke about his interest in nature and farming. He's particularly fascinated by lichen, a collaboration between fungus and algae, nonliving and living entities. He asked if unlearning could be a symbiotic process, like the relationship within lichen.
Jung-Yeon Ma spoke about her move from the East to the West of Japan. The two sides hold dramatically different culture, language and even electricity standards. In speaking about the Summer School of Unlearning, she mentioned Joseph Beuys' friendship with Nam June Paik. If Paik connected everyone via satellite TV, we are connected via the Internet today.
Gulnara Kasmalieva and Muratbek Djumaliev showed photos of their art school days from the 1980s and their process of unlearning the rigid aesthetic and political standards influenced by the Soviet Union. Following the political shift in the Post-Soviet countries, their practice also shifted towards installation art, socially engaged practice, alternative education and activism.
Aigerim Kapar is an Interdependent curator, and one of the initiators of Artcom. Through art interventions, open schools, socially engaged art practices, they connect with their city and the natural environment, such as the Great Steppe. The Great Steppe is a temperate grassland that stretches from Europe to Asia in a horizontal direction. As a post nomadic society, they believe "Our memory is not in the city, Our memory is in the steppe. The Steppe is the site for the memory and the future."
Jaemin Shin is the program associate who oversees the Summer School of Unlearning. Prior to joining Taeyoon Choi Studio as a Studio manager, she worked as a curator and performing arts producer.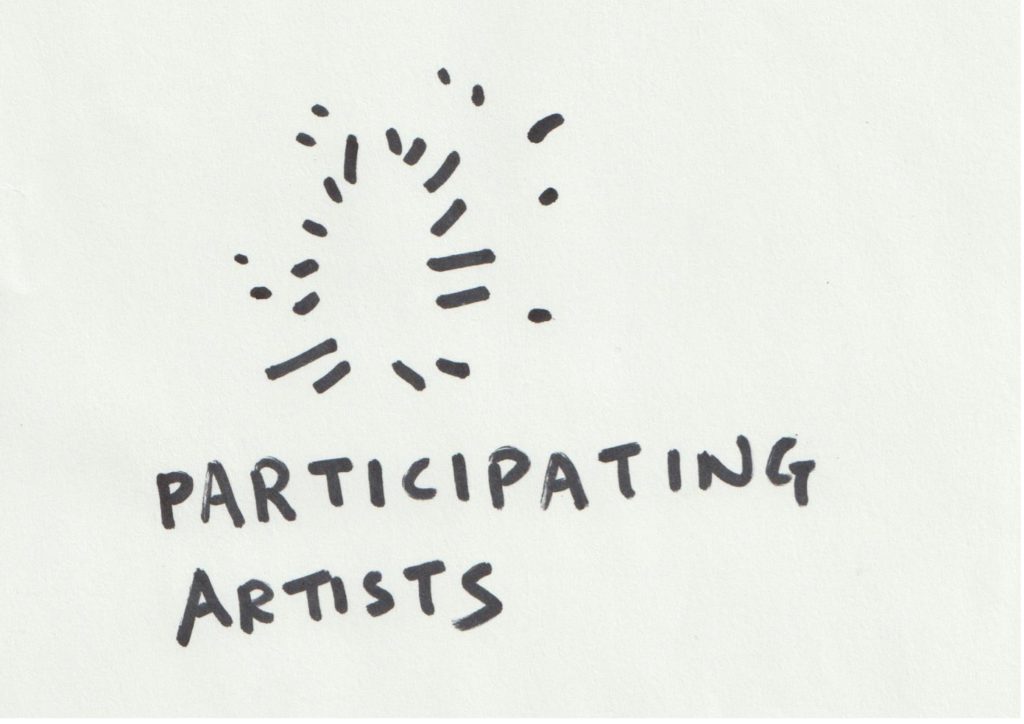 Japan node
Kewserjan Irihama was born in Ürümqi, Xinjiang in 2000. He moved to Japan in 2005 along with his family. He's a university student, as well as a member of SpiderWeb, a rap music group, photo, video and fashion collective.
Hina Omukai is interested in political aspects of contemporary art. As a university student, she's involved in a student group that raises awareness of social issues in Japan. She also practices Ikebana, a traditional flower arrangement.
Nozomu Matsuura is interested in Pop culture, especially how the fictional dimensions in an artwork are connected to reality and society. He thinks of himself as a blank state, ready to fill in more colour through the Summer School of Unlearning.
Saya Kunikiyo comes from a family of school teachers. As a teenager born in Hiroshima, she participated in school activities on peace and human rights. Her recent interest is in gender studies and feminist art movement. She is a vocalist / lyricist of a neo-neo acoustic band.

Korea node
Sojin Kwak is a camera-person and an artist. During the introduction, she drew a map of Eurasia and highlighted the four countries, visualizing the distance between everyone. She spoke about learning outside of traditional schools and stretching the territory of friendship through the Summer School of Unlearning.
Yunji Song went to alternative school and participated in youth-led movements. Currently, she's building libraries in hospitals and organizing Greenoccupy, a zero-waste truck that intervenes in local communities where there's limited recycling options. She's also organizing other activities to raise awareness about climate change.
Uma Shin is interested in how people build communities. Having experienced political and emotional isolation in her academic environments, she worked on creating a safe, conversation-based learning space, rinseroom.
Kyrgyzstan node
Malika Umarova has a background in medicine and pediatrics. She was not formally trained in arts. Currently, she works as an artist in theater 705 as part of an artistic collective with focus on experimental theater as a platform for interaction between visual artists and theater people. And she runs experimental children art projects as an art teacher at school which involves broadening children's visual experience and various experiments in connection to art history.
Marat Raymkulov learned about art through his father's garden, an eccentric mix of Leninism and Marxism with Japanese culture and the history of art. For Marat, unlearning means process and practice in which the philosophical systems and art of Central Asia are critically and cheerfully revised. He also introduced his wildly whimsical projects.
Talgat Dzhumashev is an artist who's interested in the relationships of landscape and history. He showed aerial photos of Bishkek from the1960s and today. The history of Kyrgyzstan which he learned under the Soviet Union was singular. On the other hand, the stories that his grandmother told had other perspectives. For him, unlearning is about forgetting something to a clean slate, relearning from different perspectives.
Nargiza Ryskulova is a journalist, mother and artist. She is interested in indigenous cultures, people, oral history, and traditions which define contemporary life. She said "How people choose to tell their stories, and what stories they tell each other" is the pillar of community. She also said parents are teachers who we learn and unlearn from.
Kazakhstan node
Dariya Temirkhan is a member of Art Collider, and as an artist she makes collages and mixed media projects. Recently, she made new work about the quarantine experience.

Dana Iskakova is an artist splitting time between St. Petersburg and Almaty. Her projects include An Artist made of wire, which she carried across borders, and an organic carpet made of mulberry tree and companion plants. In her work and research, she's interested in the making of neighborhoods, collaboration with the community, and concepts like the Imaginary museum by Andre Malraux.
Medina Bazargali is an artist who resists patriarchal, colonialist, capitalist knowledge. As a digital artist, she's interested in folk tradition, politics and activism. Her work combines code, the internet with biomedical data.
Maya Sagym is an activist, community organizer, working on changing public perception of wetlands in Astana. With urban developments and constructions, local lakes are vulnerable to draining and constructions. Their work aims to unlearn and decolonize the concept of beauty in the natural landscapes.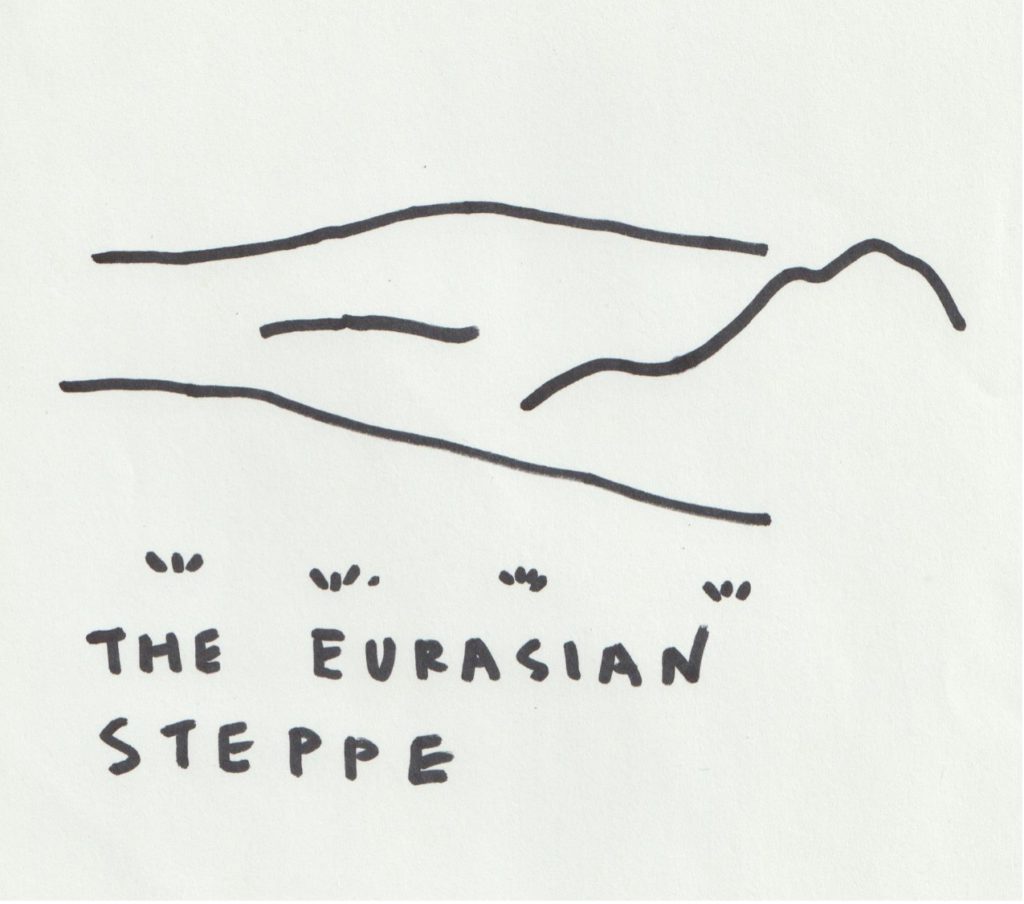 —
We are planning to meet again in August, for more informal conversation and collaboration. We will organize a public presentation in September to share what we discussed, what and how we unlearned.